How to Renew Your Mind with Bible Verses

If you know how to renew your mind with Bible verses, you will see the difference between victory and defeat in your walk with God. All Christians get plagued by discouragement, disappointments, trials, and temptation. It's on those days when all you see before you are difficult circumstances that you will want to use Scripture to change your thinking.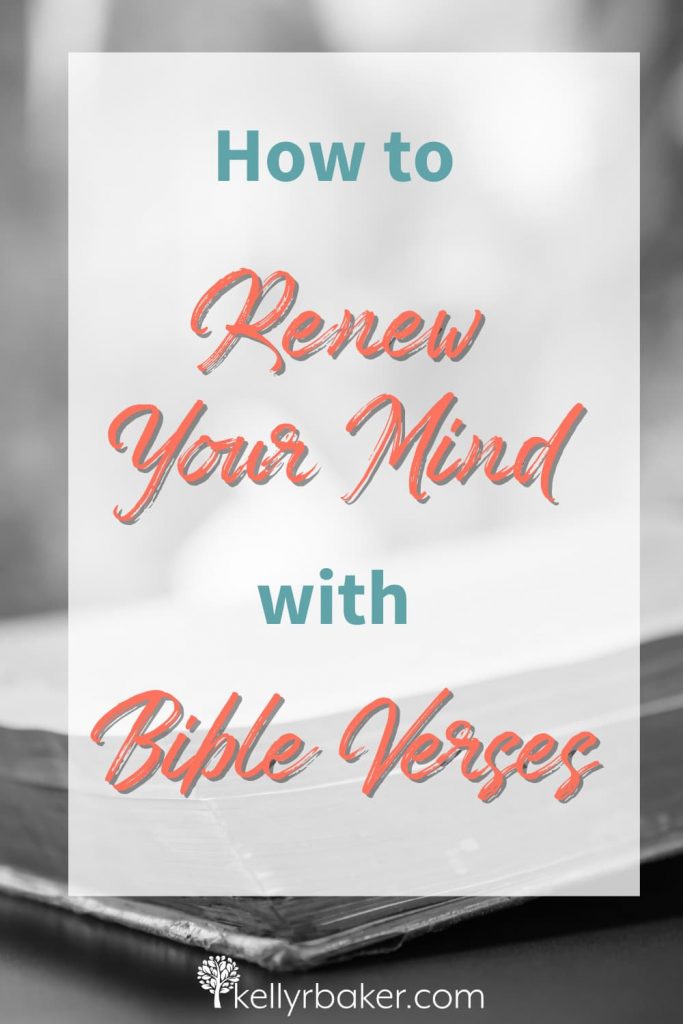 But you don't want to live defeated, right? So let's jump into why and how you need to renew your mind with Bible verses targeted to your situation.
Use What You're Living Through to Renew Your Mind with Bible Verses
I sat trembling on the sofa in the quiet. With every tiny sound my heart raced harder.
My toddler was sleeping soundly. I should've been sleeping, giving my body the rest it needed to carry the little one inside. But fear and adrenaline go hand in hand. There was no way I'd let myself sleep anyway.
My vivid imagination spiraled out of control. There was a lady who came and stole a newborn right out of the mother's arms. She never saw her baby again. What if it happened to me?
I lived in a safe neighborhood. I had locked doors. My husband's office was two blocks away.
But I was still afraid. It was unbearable when I was alone.
I didn't want to live in misery anymore. So I cried out to God, and He gave me a radical idea.
FEAR is False Evidence Appearing Real—it's a lie. Satan is the father of lies; his kingdom produces lies.
Truth will eliminate a lie. I needed to renew my mind with the truth of God's promises.
I pulled out my Bible and wrote verses against fear on a bunch of index cards. But instead of letting them sit stacked in a drawer, I shoved pride aside and started posting them all over the house.
Anyone who came over would be able to see what I was battling. It was easier to deal with the thought of being embarrassed about that rather than live in the torment of being afraid.
I went about my normal day doing dishes, straightening, taking care of my toddler. Those verses were in every room. I prayed them, recited them, memorized them.
Then it was time to do the laundry. I had posted a card at the top of the basement stairs. I paused before going down…the darkness loomed large. I grabbed the card, "I'm taking this one with me!"
Looking back, that was a funny moment. But the thing is, over time, I was no longer LIVING THE SITUATION, I was LIVING THE WORD. That's abundant life!
Over time, I was no longer LIVING THE SITUATION, I was LIVING THE WORD. That's abundant life! #LiveYielded #ThrivingInChrist
Click To Tweet
Why You Need to Renew Your Mind with the Word of God
All Satan's imps tried to plant seeds of lies in every area of my life. Has this happened to you too?
But you know what was I doing with those cards? I was doing 2 Corinthians 10:5: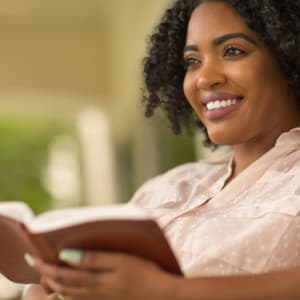 Casting down imaginations, and every high thing that exalteth itself against the knowledge of God, and bringing into captivity every thought to the obedience of Christ.
It wasn't too many days after posting the cards that the peace of God replaced the fear.
Sometimes the enemy would come and try to make me doubt I'm free. Nu uh. I'm free.
But other times, I'd give into the fear and need to get my cards out again.
"More Than I Can Bear?"
Christians have a mindset that "God doesn't allow more than I can bear." Not true. It's temptation that God says He won't allow more than we can stand (1 Corinthians 10:13).
Paul says in 2 Corinthians 1:8, "we were burdened beyond measure, above strength, so that we despaired even of life." It was more than they could bear because they needed to rely on God.
Whenever you're feeling mentally overwhelmed, life is unbearable, or you're sinking into discouragement, then the solution is renewing your mind with Bible verses.
I Wasn't Renewing My Mind with Truth Correctly
One day I had a prayer session in my closet. Well, it was more like a weeping session. Like I didn't have words.
Then my gut-wrenching prayer finally changed from saying, "PLEASE GOD" through tears for an hour to a long list of the reasons why He needed to provide for our family.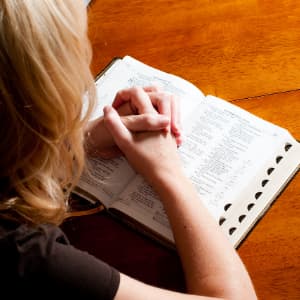 Oh, how wrong that was! Can you see the problem here?
God let me know I was trying to convince Him to take care of me and my family. I hadn't renewed my doubt-filled thoughts with His Word.
After that truth hit me between the eyes, God reminded me that His promises aren't broken!
He already knows our needs and promised He would provide, right?
So I got out my verses and refreshed my memory with His promises:
Therefore I tell you, do not be anxious for your life…But seek first God's Kingdom and his righteousness; and all these things will be given to you as well. Matthew 6:25,33
What does it say? Not to be anxious. Instead, we are to seek first the kingdom of God and His righteousness.
Another one I renewed my mind with is Philippians 4:19, "My God will supply every need of yours according to his riches in glory in Christ Jesus."
After that the turmoil left and His peace settled over my heart.
Powerful Bible Verses About Renewing Your Mind
Romans 12:1-2 (NKJV)
I beseech you therefore, brethren, by the mercies of God, that you present your bodies a living sacrifice, holy, acceptable to God, which is your reasonable service. And do not be conformed to this world, but be transformed by the renewing of your mind, that you may prove what is that good and acceptable and perfect will of God.
Ephesians 4:22-24 NKJV
That you put off, concerning your former conduct, the old man which grows corrupt according to the deceitful lusts, and be renewed in the spirit of your mind, and that you put on the new man which was created according to God, in true righteousness and holiness.
Colossians 3:10 NKJV
And have put on the new man who is renewed in knowledge according to the image of Him who created him.
Titus 3:4-5 NKJV
But when the kindness and the love of God our Savior toward man appeared, not by works of righteousness which we have done, but according to His mercy He saved us, through the washing of regeneration and renewing of the Holy Spirit.
Renewing Your Mind with Scripture Brings Encouragement
Sometimes you might feel like you just need general encouragement. That's when it's time to be encouraged by the Word.
So then, what's going on with you? What is the specific problem? Is it: Finances? Health? Drama at work? Whatever the situation, get specific verses to get in front of you. It means you're choosing to trust God in your thought life.
Whatever the situation, get specific verses to get in front of you. Renew your mind and become encouraged. #LiveYielded #ThrivingInChrist
Click To Tweet
I get that it's not that easy to just read verses when you're living the situation. But renewing your mind is what the Word commands us to do.
Transformation from discouraged to encouraged sounds good, right? And it's only going to happen when you align your mind with Scripture.
This is my comfort in my affliction, For Your word has given me life. Psalm 119:50 NKJV
---
Want to help others learn to renew their mind with Bible verses? Use the icons below to share this post!