The Secret to Obediently Walking With God
Welcome to Day 3 of our #GodlyAdventure. Alyson from Write Them on My Heart is tackling every Christian's favorite subject—obediently walking with God. Okay, sarcasm aside, her post reveals the secret!
---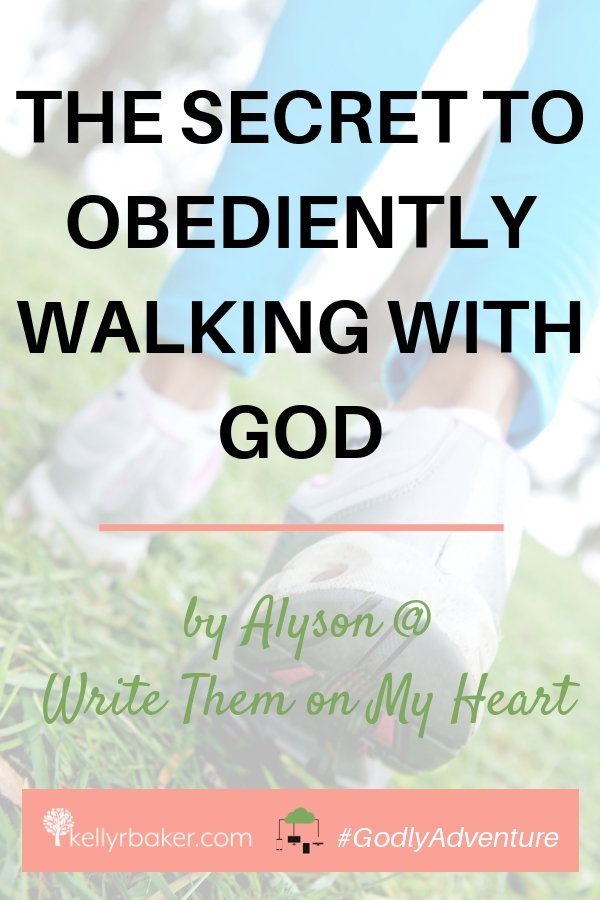 There I was again, grappling with what God was asking me to do. Something I didn't really want to do. Something I didn't have time to do. Something I was scared to do.
My heart beat a little faster. I tried to ignore it.
But my mind raced. I commenced the whining.
I counted the costs and justified the pros and cons.
I laid out solid, logical reasons for not doing it.
I put it off and hoped it would be forgotten.
Sometimes I think my most creative work comes into play when I don't want to be obedient! I'm not proud of that.
Do I want to keep letting comfort and fear win?
Here's what I've learned. That comfort? It's a lie. Turns out, we can't be comfortable and disobedient at the same time. In reality, we'll just be miserable, so we might want to rethink putting off obedience.
Jesus not only understood that, but He actually wanted to be obedient.
And being found in human form, he humbled himself by becoming obedient to the point of death, even death on a cross. Philippians 2:8 ESV
Can we develop that desire? That sure would make a difference, so let's see what we can find out in the Word.
Following Jesus' Example in Obediently Walking with God
Like me, Jesus did think twice …
And going a little farther he fell on his face and prayed, saying, "My Father, if it be possible, let this cup pass from me; nevertheless, not as I will, but as you will." Matthew 26:39 ESV
But unlike me, He added in the same breath, "Not my will, but Thine."
And He meant it, because He obeyed the hardest request ever.
May we follow His lead.
Wait. Are you thinking what I'm thinking? We're just mere mortals. We're not as strong as Jesus!
For I know that nothing good dwells in me, that is, in my flesh. For I have the desire to do what is right, but not the ability to carry it out. Romans 7:18 ESV
How can we be expected to be like the Son of God?
For to this you have been called, because Christ also suffered for you, leaving you an example, so that you might follow in his steps. 1 Peter 2:21 ESV
It may not sound possible, but we are called to follow in His steps – even though we are weak humans.
The good news is, He made a way for it to be achievable!
God doesn't mean for us to try, try, try our best to do this.
He has a better plan than that – one where He will get all the glory instead of us.
He gives us the gift of His Spirit.
In him you also, when you heard the word of truth, the gospel of your salvation, and believed in him, were sealed with the promised Holy Spirit. Ephesians 1:13 ESV

The Key to Obediently Walking With God
Instead of trying our best to be obedient, all we have to do is …
Walk by the Spirit!
But I say, walk by the Spirit, and you will not gratify the desires of the flesh. Galatians 5:16 ESV
The walk in "walk by the Spirit" is Strong's G4043, which means to "live by or be occupied by" the Spirit. In other words, have a relationship – a close relationship. The closer we get, the more He will cause our heart change.
Instead of trying our best to be obedient, this is what we need to do. Alyson from Write Them on My Heart #GodlyAdventure #BloggerVoicesNetwork
And I will put my Spirit within you, and cause you to walk in my statutes and be careful to obey my rules. Ezekiel 36:27 ESV
Keep getting closer and He will cause a desire to walk in His will. And He will even equip us with everything we need to do it.
Now may the God of peace … equip you with everything good that you may do his will, working in us that which is pleasing in his sight, through Jesus Christ, to whom be glory forever and ever. Amen. Hebrews 13:21 ESV
He will do the work in us. He alone.
Our part is to give Him our time. Walk with Him. Cultivate the relationship. Abide.
Whoever says he abides in him ought to walk in the same way in which he walked. 1 John 2:6 ESV

For this is the love of God, that we keep his commandments. And his commandments are not burdensome. 1 John 5:3 ESV
First Steps of Yielding
Just so you know, it is possible to suppress the work of the Holy Spirit in us.
Do not quench the Spirit. 1 Thessalonians 5:19 ESV
So don't put Him off like I did. Depend upon the Holy Spirit and He will give you the desire and the equipping as you walk with Him.
Be willing to take the first step of humble obedience. Because that comfort and contentment we mentioned earlier? They're found in obedience!
But this command I gave them: 'Obey my voice, and I will be your God, and you shall be my people. And walk in all the way that I command you, that it may be well with you.' Jeremiah 7:23 ESV
What area can you begin obediently walking with God?
Alyson at
WriteThemOnMyHeart.com
is on mission to help you surround your heart and home with God's Word. She is a Bible digger and hand-letterer who shares free printables, a reader who shares detailed book reviews and a life-long student who shares what God is teaching her through His Word.
The wonderful giveaways in this bundle are sure to strengthen your walk with God! #GodlyAdventure #BloggerVoicesNetwork
Week 1 – Walking with God in Christian Living Giveaway: one grand prize of the Thrive Journaling Devotional Bible for Women, the 30 Days of Joy Bible Journaling Tool Kit, a Watercolor Bible Verse Printable, The Gift of Prophetic Encouragement book, and Organic Love novel; four secondary winners of the 30 Days of Joy Bible Journaling Tool Kit and a Watercolor Bible Verse Printable.
Week 1 – Special Blogger Giveaway: one winner receives Grow Your Email List Like A Pro with MailChimp.
---
Want to encourage others in their walk with God? Use the icons below to share this post!
*shared at some linkups