God Help Me: 10 Verses That Prove God Has Your Back
Whenever you want to pray, "God help me please," remember these 10 verses that prove He is on your side. God is your helper!
---
My daughter's hair is almost to her waist. She's never had it cut, except for when her brother cut a piece off the side a few months ago (I cried). We've all put off her hair being cut because she was born with baby curls, and we know once it's cut, it will be straight. This is what happened with other babies in our family's history on both sides. Little Miss wants to keep her curls too.
So she gets massive tangles sometimes. I try to be as gentle as possible and hold her locks so they won't pull, but sometimes it's painful.
As much as my Little Miss has said repeatedly that she doesn't want a haircut yet, there was one time that it was seriously matted. It was taking a long time. She said, "Mommy, I think I want my hairs cut short so I don't have the tangles. They hurt!"
I started praying, "God, please help me through this!" And I knew He would. His peace immediately settled my heart. He gave me an idea to distract her which made the process go a lot smoother.
The Lord is Your Helper
That day I got to thinking about how when life deals us a tangled mess, we don't want to deal with the pain or hassle of it. We just want a quick fix, like chopping my daughter's hair short.
But like I brushed out the tangles one piece at a time, we must deal with life's entanglements one step at a time.
Let's say God is working through those with you, and each sweep of the brush is an application of His Word. We need to apply His promises, commands, and truths to every situation.
He will receive glory for that, just like long hair is called a glory to a woman (1 Corinthians 11:15). Don't cut off the opportunity for God to help you with your life's problems!
10 Bible Verses About Help from God
The Bible has a lot to say about God helping us. If you're wondering how to ask God for help, here are 10 verses that prove the God of the universe is on your side. These are promises for you to claim!
Psalm 54:4
Behold, God is my helper. The Lord is the one who sustains my soul.
Psalm 46:1
God is our refuge and strength, a very present help in trouble.
Psalm 33:20
Our soul has waited for the LORD. He is our help and our shield.
Hebrews 4:16
Let's therefore draw near with boldness to the throne of grace, that we may receive mercy and may find grace for help in time of need.
Psalm 62:8
Trust in him at all times, you people. Pour out your heart before him. God is a refuge for us.
Psalm 63:8
My soul stays close to you. Your right hand holds me up.
Psalm 121:1-5
I will lift up my eyes to the hills. Where does my help come from?
2 My help comes from the Lord, who made heaven and earth.
3 He will not allow your foot to be moved. He who keeps you will not slumber.
4 Behold, he who keeps Israel will neither slumber nor sleep.
5 The Lord is your keeper. The Lord is your shade on your right hand.
Psalm 55:22
Cast your burden on the Lord and he will sustain you. He will never allow the righteous to be moved.
Isaiah 50:7
For the Lord GOD will help me. Therefore I have not been confounded. Therefore I have set my face like a flint, and I know that I shall not be disappointed.
Hebrews 13:6
So that with good courage we say, "The Lord is my helper. I will not fear. What can man do to me?"
God Is My Helper
No matter the news, challenge, temptation, or situation, God always comes to the rescue of His people. I encourage you today to cry out to Him first because He has your back.
RELATED: God's Got Your Back
He might answer you with encouraging Bible verses like the ones above about help from God, give you specific wisdom, or bring a friend or book across your path to speak words of life.
Friend, God hears your prayers. He's working to answer them. And He's cheering you on, every step of the way.
When the sinner is in turmoil, you'll have His peace. When the unbeliever is needy, you'll be provided for. And then you can help someone else because God came to your aid.
Can you thank Him and praise Him right now for being so constantly good?!
Prayer for God to Be Your Helper
Father God, help me with my life. I choose to come to You first. Thank You for these verses that let me know that You've got my back. You're faithful, God! You are mindful of me and care for me. How wonderful that is! I choose to yield to Your help and not try to figure out everything on my own. I thank You and praise You, God my helper. In Jesus' name. Amen.
Whenever you want to pray, "God help me please," remember these 10 verses that prove He is on your side. God is your helper! #LiveYielded #ThrivingInChrist
Click To Tweet
Get the My Help Comes from the Lord Phone Wallpaper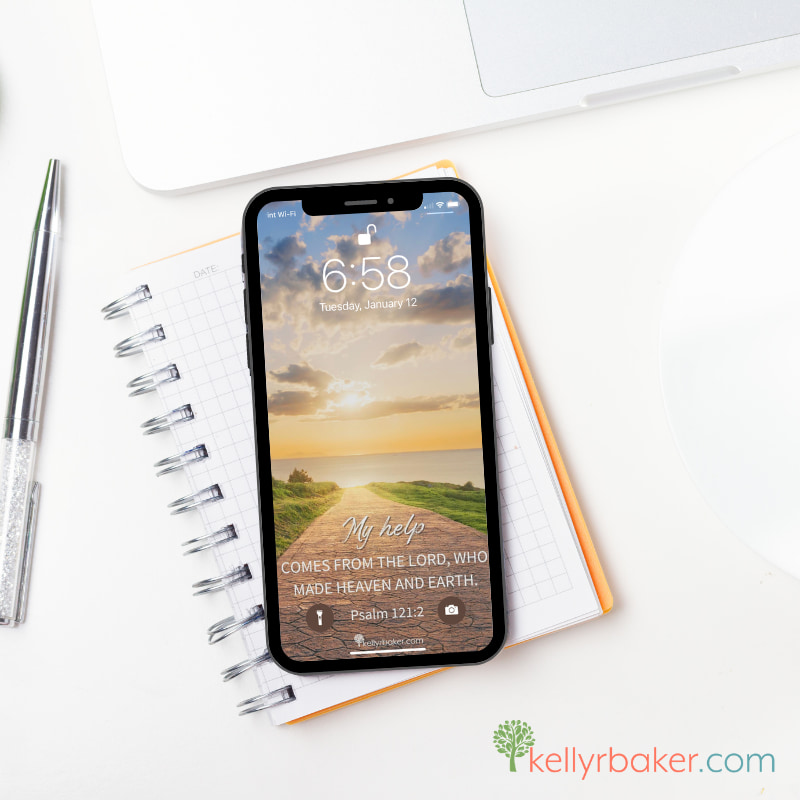 I've created an inspiring phone wallpaper featuring Psalm 121:2 for you. It's free in Insider Resources. Not a KRB Insider yet? Get access here.
Instructions
Find the My Help Wallpaper in Insider Resources (under Biblical Truths)
To access the correct size for the lock screen, click the link, and then right click to download (desktop) or press and hold to add to photos (iPhone).
Save the wallpaper to your phone
Go to settings
Go to wallpaper
Choose a new wallpaper
Photos, choose the My Help Wallpaper you saved
Move and scale to your desired position
Set to lock screen or home screen or both
Enjoy!
---
Want to help encourage others in their walk with God? Use the icons below to share this post!