BVN (5/2018 – 9/2023) is no longer running. If God leads me to open it again in the future, then I will!
Are you a woman blogging for God's glory?
Are you a Christian faith blogger desiring inclusiveness in a community that will support and promote you—yet so many battles hold you back?
Tell me I'm not the only one who struggles with discontentment as a blogger?
Do you, like me, ever cross that invisible line of making ministry an idol? Subconsciously seeking your own glory above God's? Comparison with other blogger's success?
Can you relate to battles like this?
The truth? I struggle with this a lot. Yet I know God wants to use you as much as He does me.
When I fail to keep my heart in the right place, I live alone—in misery. Comparison divides me from community. Dissatisfaction in ministry drives me further away from God in an effort to try harder to fill my void.
In the midst of these battles, God called me to start a network to practice contentment. After I ran to Tarshish for awhile, I embraced this call, and what I'm learning is that community is a safe place to be.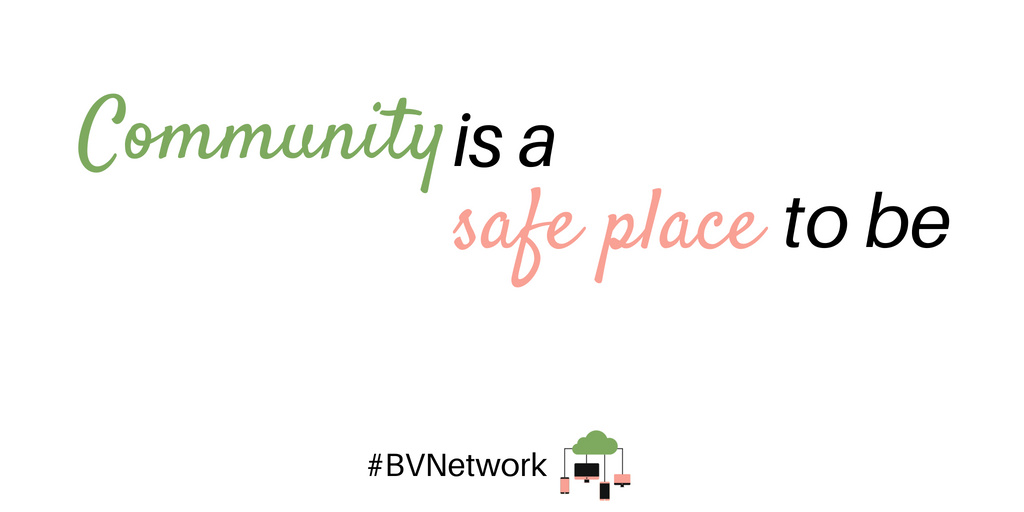 Help to Win the Fight
Allow me to introduce the Blogger Voices Network. The heart and foundation of this Network is that we would together "with one voice glorify God" (Romans 15:5-7).
In order for that to be a reality, we will help each other practice contentment paired with promoting each other through the mission of the network. All opportunities are optional.
Books can help you but relationships are where you really mature. — Justin D. Baker
(Quote your husband as often as possible. #tip)
How the Blogger Voices Network Operates
A like-minded network is already gathered to help with help/support/launches/series, etc. whenever one of the members post the need in the group. Other members step up as they are able.
You'll also hear regularly from our Encouragement Hosts in the group, to practice contentment, keep our blog as an offering for God's glory, and not allow comparison to divide us.
Our #BVNetworkParty (linkup) is held on Fridays inside the group, we support each other with tech tips, social media share threads, prayer, and more. Besides trying some new ways to network, we host an annual event here at kellyrbaker.com to encourage the Christian community at large.
Though we didn't deserve it, Jesus responded with goodness and kindness. …And we start living lives of kindness and purpose when we realize how much God loves those around us, too. This is where God's Spirit invites us to move from a me-first mentality into a faith-first mentality. We need God's help to see the people around us as the image bearers they are. —Candace Cameron Bure
Blogger Voices Network FAQ
Is membership free?

Yes! Save your money for other neat blogging stuff.

Who can become a member?

Women faith bloggers.

How will anyone outside the Network know I'm a member?

Members will be given a prestigious membership button to display on their blog.

Is being interviewed or participating in a collaboration required?

No, members may join for the sole purpose of like-minded community support.

May I pitch a collaboration idea for my blog to other members within the Facebook group?

Yes, please refer to the guidelines once added to the group.

Is there a BVN Pinterest group board?

Yes, members will receive an invite to pin their content on the board.

Are there any leadership roles available?

Please email or message Kelly after you've been in the group for awhile, and we'll let you know if one becomes available.

Need a badge for the #BVNetworkParty? Choose white (top) or transparent (bottom).
Meet the Leadership
People can't see your value unless you are part of a community. —TJ Hall
We're inviting you to be a voice for God's glory.
Request to join

the Blogger Voices Network

today!
Looking to collaborate with other like-minded Christian women bloggers? Join the Blogger Voices Network!
SaveSaveSaveSave