God is For You: The Sun Still Shines Above a Cloudy Day
Are you waiting for sunny skies again? God is for you. I've lived through cloudy days too. Read on for some encouragement if you're ready for a change.
---
Do you feel like you're having nothing but cloudy days? Things can't possibly get worse? Too many problems at once? I've been there…
Let me tell you what God said and how my perspective changed.
Cloudy Days
It's been awhile since I've let the tears give way. It's amazing how quickly negativity can become a leech.
This season has been a hard one. I am tempted to "give up," but no. Either I trust God means what He says, or I don't. There isn't an inbetween.
What's that passage in James 1 say? I look it up…
"He who doubts is like a wave of the sea, driven by thewind and tossed." "Double-minded." "Unstable."
No… I don't want that to describe me.
Yet the day has been filled with disappointments, exasperated also by a tired mama. My mood matched the cloudy skies.
Now what?
I cannot change my circumstances any more than I can make the sun come out. I am unable to make my desires come any faster than I can move the sun.
Facing the facts is wise, but it doesn't lift the gloom.
Wallowing in self-pity never makes me feel better. Instead, I need to run to the Father's arms.
Run to His Arms
I'm hiding under the shadow of His wing. His heart is my haven.
In the physical realm, my haven might look like being alone in the bathroom. Or locking myself in the solitude of my room with worship music playing.
But what the natural eye can't see, is that God is next to me. He's promised to never leave or forsake me. He is here. Faithful.
I give all the worries, frustrations, and disappointments to Him. He responds by filling me with His peace.
I know that when I walk out of my natural haven, my circumstances are going to smack me in the face if I'm not ready. So I stay a little longer and speak truth to my weary heart.
Yahweh is on my side. I will not be afraid.… Psalm 118:6
His promises soothe. His presence, a balm.
He extends an invitation to me. I sense Him saying:
Come, sit at the table. Dine a while with Me.
Stay; linger beside me. Talk a while with Me.
I am here for You.
The sun still shines above a cloudy day.
In the same way I'll never go away.
Take My hand and feel My strength.
I am here for You.
God Is for You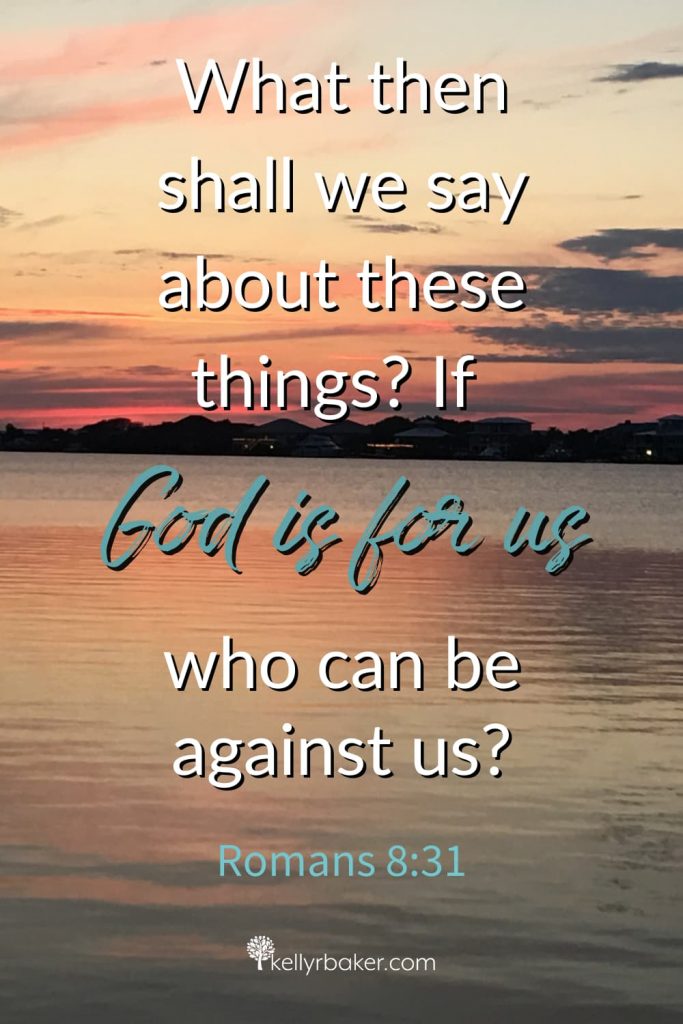 This makes me think of the Bible verse that says God is for you:
What then shall we say about these things? If God is for us, who can be against us? Romans 8:31
This is truth!
It's time to renew my mind.
He is for me! I repeat it over and over.
If God is for us, who can be against us? He's cheering for me! He is on my side! I am His, and He is mine!
"The sun still shines above a cloudy day." HE is my sun.
My perspective changed.
The sun still shines above a cloudy day. God is for you. #LiveYielded #Encouragement"
Click To Tweet
For the LORD God is a sun and a shield. The LORD will give grace and glory. He withholds no good thing from those who walk blamelessly. Psalm 84:11
It's true that I can not make God move any faster. It's His timing, not mine. But He is not holding back anything good that I am supposed to have.
Because He is for me.
And also for you, my friend.
When you are still waiting for that spouse. Or that job. Or that house. When you weren't chosen for that scholarship. When your bank account is in the red.
If the doctor's report is not what you had hoped to hear. When you are at odds with someone else, or even yourself.
When you're just waiting for sunny skies again…
God is for you. He is the sun shining above your cloudy skies. And He is not holding back anything good that you are supposed to have.
RELATED: God Help Me: 10 Verses That Prove God Has Your Back