7 Biblical Ways to Respond to Trials
Sometimes the trials that come seem too much to bear. How do you cope? Imagine being able to know how to biblically respond to trials that come. In this post I'm sharing seven ways that bring relief when you go to the Lord as your source of comfort.
---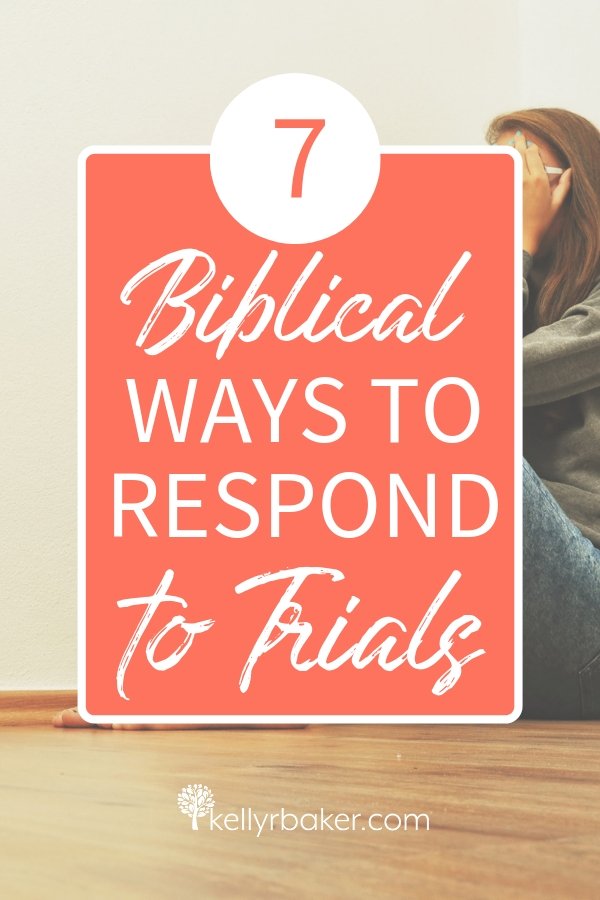 My family was in the midst of an ordeal last year when the weather turned warm. Wasps moved in with us. It was scary.
For months, every time we walked into the laundry room we would have to be on guard for the little yellow and black stinging pests. If only they didn't fly, then it would have been easier.
It was so bad that we considered not doing laundry at all. Can you imagine not doing laundry for about five or six months of warm/hot weather? Pew. So yeah, that really wasn't an option.
The wasps were somewhere in the walls, and they also showed up in the basement. Great, our house is haunted. With wasps.
No one could figure out how to get rid of them, so we lived with an agreement: they could live in the house, but if one came into view it was killed with the zapper. (love that thing!)
Christians Have Trials
Some trials are more daunting than others. A few friends come to mind. They have been in and out of hospitals.
As much as we would all love to wish those troubles away, they are a part of life, and Christians certainly aren't exempt. As a matter of fact, Peter tells us not to be surprised by them.
Beloved, do not be surprised at the fiery trial when it comes upon you to test you, as though something strange were happening to you. 1 Peter 4:12 ESV
The good news is, the Lord is our deliverer! Let me tell you, friend. No matter what it looks like, God's promises aren't broken. He will provide for your needs and the Holy Spirit lives up to His name as the Comforter (John 14:26).
Many are the afflictions of the righteous, but the LORD delivers him out of them all. Psalm 34:19 ESV
Try These to Respond Biblically to Trials
1. Lay your frustrations at God's feet. Your circumstances are not hidden from God. He sees. He hears. "Commit your way to the Lord; trust in him, and he will act." Psalm 37:5 ESV
2. Keep a steady diet of God's promises. We become faint when waiting to eat past the point of hunger. After a healthy meal we are energized. In the same way, when we "eat" of the Word, we become stronger. "Your words were found, and I ate them, And Your word was to me the joy and rejoicing of my heart." Jeremiah 15:16a NKJV
3. Pray. Prayer helps us stay connected with God. Remember he's not forsaken you, although it may seem like it. Keep coming to Him in prayer, crying for help just like Psalm 34 verse 17 (ESV) says, "When the righteous cry for help, the Lord hears and delivers them out of all their troubles."
4. Spend time in worship. God's presence is life-giving. It's the best de-stressor I know. He wants to pour out His strength to us, give us wisdom and strategies, and fill us with His love. It doesn't matter what you are dealing with, "God is our refuge and strength, a very present help in trouble." Psalm 46:1
5. Reach out. If your body gets a cut, other parts of the body will work harder to help clean and heal the wound. We are part of the Body of Christ (see 1 Corinthians 12:27). When we are dealing with a trial that overwhelms us, our brothers and sisters in Christ are our support system. Let them help when needed, encourage, and pray for you.
6. Avoid negativity. It's easy to focus on the problem at hand, which will be a continual input of negativity. Instead, guard what you listen to, read, and watch. For example, if you are having symptoms, but the doctor's office is closed, be careful going to Dr. Google to try to figure out what's happening. Instead, try laughter! A merry heart does good, like medicine…Proverbs 17:22 (NKJV) tells us. Watching a Christian comedian would be a pleasant prescription.
7. Rest to recharge. There is a reason Psalm 30:5 (NKJV) says, "…joy comes in the morning." Our bodies naturally feel down when we are tired. Trials can leave us physically and emotionally drained. Unplug from social media, if necessary. Get some sleep, or at the very least, do something relaxing.
God's Promises Never Fail
The promises in the Word are for you, and they never fail. Thank God for His faithfulness! He is always with you during those hard times. Try these seven ways to respond biblically to trials and you will see a big difference.
When you wake up in the morning, and the first thought that comes is about the trial you're going through, there's a solution. Find out how to get your heart praising God in the morning instead!
How do you biblically respond to trials? What else does the Word say we can do? How else can God help us during hard times?
---
Want to encourage others in their walk with God? Use the icons below to share this post!