The Holy Spirit Uses the Dictionary: 10 Verses on Patience
Do you need some Bible verses on patience? Or maybe some encouragement from someone who got a wake up call from the Holy Spirit in the area of being patient? In this space I sometimes talk about how to thrive in your relationships. This is my transparent story of how the Holy Spirit is working on me in the area of patience—because of how it affects my relationships.
---
I was sitting in my chair that Sunday morning not too long ago raptly listening to the words pouring out of my sister-in-law's mouth. She was feeding my spirit man some good food. I was feeling pretty great. Then she shared the definition of being patient.
I wanted to jump out of my chair, but my insides were protesting:
No way! It does not say that!
I snatched my iPhone up before I could change my mind and looked it up in the dictionary right then and there.
Patient= bearing provocation, annoyance, misfortune, delay, hardship, pain, etc., with fortitude and calm and without complaint, anger, or the like.
She's right. Wow….it's even worse than I first thought! Ouch!
I didn't hear much of the next few minutes of Bible verses on patience. Instead, I remembered times I had gotten impatient recently. As more and more times came to mind, my heart sank. I knew I'd have to revisit this subject soon.
Do you need Bible verses on patience? Or maybe encouragement from someone who got a wake up call from God in the area of being patient? Here's my story. #ThrivingInChrist #LiveYielded
Click To Tweet
But I Am Patient…Right?
I was dealing with the kids the next morning and the day wasn't going as smoothly as I wanted it to go. I had a really important appointment to get to, and I was trying to get all the necessary tasks finished without becoming unglued in my stressful haste.
One of my boys was being difficult. I snapped at him, followed immediately by declaring aloud that I wasn't going to get impatient. I was catching myself right then and there, as the definition of patience came rushing back to mind. My son responded by saying, very patiently I might add, "Don't worry, Mommy, we're used to it."
Woah. Out of the mouth of babes….
Suddenly I knew my family had become accustomed to my unfavorable habit that was now becoming quite the revelation for me. I wondered how it came to be that way. I pondered for awhile and remembered I had stopped praying for God to make me patient years ago. After all, it was a dangerous prayer.
I had heard Christians say something like, "Don't pray for God to make you patient because He will allow all kinds of opportunities for you to learn patience!" Back then I think I subconsciously decided I didn't want to go through that, and decided I was fine. (Ha!)
But God is concerned with our spiritual growth. And having a patient character is part of that.
Why and How to Be Patient
You know how you decide to deal with an issue when you're under the influence of the anointing, and then later you try to justify it? Everyone understands, right? Like I could post on Facebook that my kids were driving me crazy and so I was headed to my chocolate stash, and people would laugh at my humanness. Fine. But they aren't here. God is here. And He's the one that is pointing out the lack of this essential fruit of the Spirit, and the example I'm showing my kids.
As I reflect on how I sound to my kids, or anyone around me for that matter, an impatient tone just cuts. Its sharpness takes the peace from the atmosphere and leaves those that heard it feeling yucky inside. It negatively affects the relationships in my life.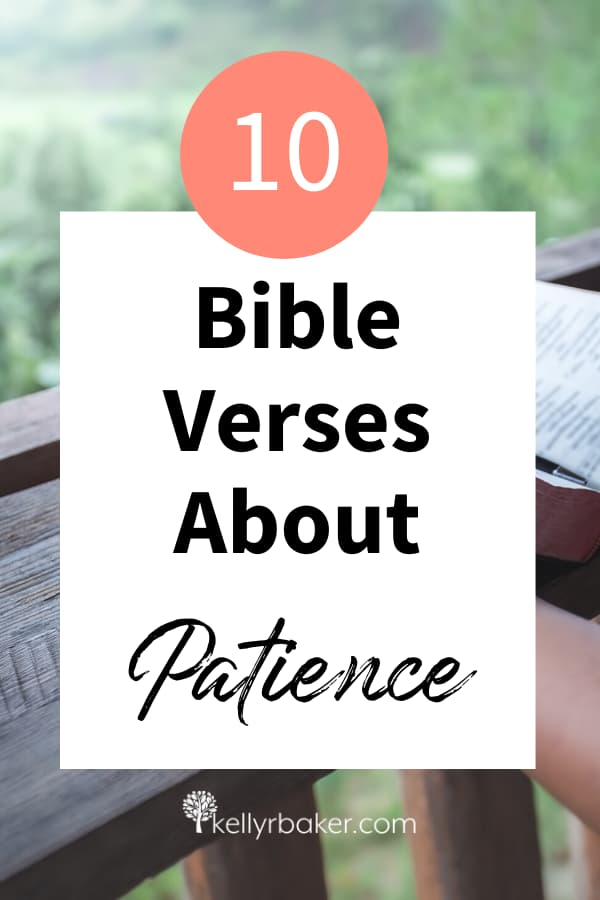 Let no corrupt speech proceed out of your mouth, but only what is good for building others up as the need may be, that it may give grace to those who hear. Ephesians 4:29
10 Bible Verses on Patience
Ultimately, this is not the habit I want to continue. I am surrendering my character development to the Lord. Part of that yielding comes with meditating on Bible verses about patience like the following:
Patience applies to relationships
With all lowliness and humility, with patience, bearing with one another in love, being eager to keep the unity of the Spirit in the bond of peace. Ephesians 4:2-3
Patience is a Fruit of the Spirit
But the fruit of the Spirit is love, joy, peace, patience, kindness, goodness, faith, gentleness, and self-control. Against such things there is no law. Galatians 5:22-23
We are to put on patience
Put on therefore, as God's chosen ones, holy and beloved, a heart of compassion, kindness, lowliness, humility, and perseverance. Colossians 3:12
God is patient
But you, Lord, are a merciful and gracious God, slow to anger, and abundant in loving kindness and truth. Psalm 86:15 (NKJV says longsuffering)
Patience is crucial in ministry/sharing the Gospel
Preach the word; be urgent in season and out of season; reprove, rebuke, and exhort with all patience and teaching. 2 Timothy 4:2
Patience is a characteristic of love
Love is patient and is kind. Love doesn't envy. Love doesn't brag, is not proud, 1 Corinthians 13:4
Patience is a work of spiritual growth
Count it all joy, my brothers, when you fall into various temptations, knowing that the testing of your faith produces endurance. Let endurance have its perfect work, that you may be perfect and complete, lacking in nothing. James 1:2-4
Suffering produces patience
Not only this, but we also rejoice in our sufferings, knowing that suffering produces perseverance; Romans 5:3
Wait with patience
But if we hope for that which we don't see, we wait for it with patience. Romans 8:25
Bear fruit with patience
Those in the good ground, these are those who with an honest and good heart, having heard the word, hold it tightly, and produce fruit with perseverance. Luke 8:15
Allowing the Holy Spirit's Work of Patience
Reread that passage from James 1:2-4 from the Bible verses on patience written above. It says that the fruit of patience comes when your faith is tested through trials. But when you allow its development in your heart, it's a work of spiritual growth and growing takes time.
The other part of the surrender to the work of the Holy Spirit is to head His prompting while in the moment. Right in the middle of irritation or impatience rising up, I can respond to His conviction by beginning a complete reversal on the spot.
It's repentance in action: a quick prayer of, "you're right, Lord, I'm sorry," apologizing to those around me, and declaring that I'm allowing the Lord to bring change in this area. It takes crushing pride to do that, and people look at me funny, but I do it anyway.
Then it takes meditating and/or memorizing Bible verses on patience. You can begin with the ones I've listed above.
Finally, Philippians 2:12 says to work out your salvation with fear and trembling, and boy, oh boy, I am working on this one!
Yes, my friends, the Holy Spirit can use circumstances, kids, and even the dictionary to get your attention.
---
Like this post? Use the icons below to share it!