Take Charge with the Promises of God
Learn how to take charge with the promises of God in every area of life so you can stay strong and keep moving forward. Includes our list of 12 promises of God in the Bible.
---
Do you ever notice that after all the traumatic circumstances that people in the Bible went through they never ended up with mental health issues?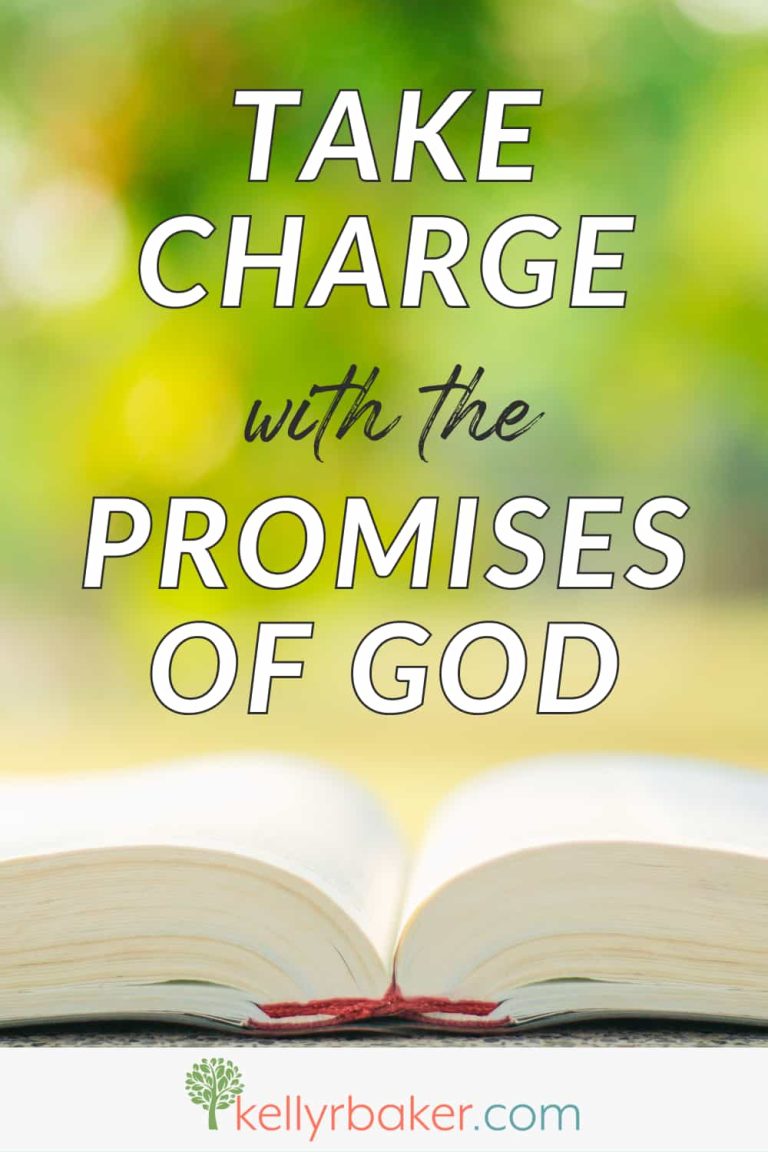 Take Paul for example.
In Acts 27-28, we learn that Paul was arrested for sharing the Gospel. Since he appealed to Caesar, he would need to go to Rome.
Wearing chains on a ship bound for Rome, he warned the officers that he believed if they went on, they would be in danger of shipwreck, their lives, and losing everything. It was already dangerous to keep sailing since it was well into the fall season.
The captain didn't listen, and they continued sailing—right into a typhoon.
After the shipwreck, while Paul was gathering sticks to lay on the fire on the beach, a poisonous snake bites his hand. He shook it off into the fire unharmed.
Let's recap:
Arrested
On a boat during a typhoon
Shipwrecked
Bitten by poisonous snake
I'd say those are some disturbing events to endure! But Paul kept right on doing what God called him to do.
Get Yourself a Promise of God
Life will press hard. Circumstances will weigh heavy.
You don't have to allow your situation to dictate who you are or how you respond. There will always be something that threatens to steal your joy.
Lay off every weight (Hebrews 12:1). When you renew your mind with the promises of God, you'll remain victorious above it.
Emotions don't need to rule you.
Does that mean that we can't have an emotional response?
God gave us emotions. Even He has emotions. But we aren't to be ruled by them.
Self control is a fruit of the Spirit. That means you shouldn't stay in your emotions because that will lead you down the wrong road.
Instead, set your face like a flint, determined. God is your shield. You aren't going down. Why? Because of all of God's promises in the Bible that are at your disposal any time of day or night.
This is how God is your shield of protection (Psalm 18:2; Proverbs 30:5).
For the Lord Yahweh will help me. Therefore I have not been confounded. Therefore I have set my face like a flint, and I know that I won't be disappointed. Isaiah 50:7 WEBP
Let the Promises of God Call the Shots
When all you can see is what you think God isn't doing, you will be blind to what He is doing.
Despite Paul's traumatic circumstances, God brought him through:
In the middle of the storm, an angel appears to Paul and lets him know that they will all survive.
He was unharmed by the snake.
Paul healed all the sick people on the whole island before they left.
He was able to share the light of Jesus with all around him—no matter what he was going through.
God is continually with you, helping you, refreshing you.
Isaiah 58:11 (NLT) The LORD will guide you continually, giving you water when you are dry and restoring your strength. You will be like a well-watered garden, like an ever-flowing spring.
The right perspective will set your focus. This is why you need to go by the promise of God instead of the situation.
And mixing patience with your faith is critical. That means you won't change your mind about what God said if you don't see the answer "fast enough."
For indeed we have had good news preached to us, even as they also did, but the word they heard didn't profit them, because it wasn't mixed with faith by those who heard. Hebrews 4:2 (WEBP)
The promises of God to us are the key to your victory.
12 Promises of God in the Bible Every Christian Needs to Know
When you know God's promises, you know God. God's promises will work when you speak them regarding your situation.
If you remain in me, and my words remain in you, you will ask whatever you desire, and it will be done for you. John 15:7
Just like your body needs to breathe in and out to keep your body alive, your spirit needs the truth of the word flowing in and out of you to keep vibrant.
These promises of God scriptures are taken from the World English Bible (WEBP).
Sleep
In peace I will both lay myself down and sleep, for you alone, LORD, make me live in safety. Psalm 4:8
Strength
Don't you be afraid, for I am with you. Don't be dismayed, for I am your God. I will strengthen you. Yes, I will help you. Yes, I will uphold you with the right hand of my righteousness. Isaiah 41:10
Energy
He gives power to the weak. He increases the strength of him who has no might. Isaiah 40:29
Loyalty
"I will in no way leave you, neither will I in any way forsake you." Hebrews 13:5
Learn how to take charge with the promises of God in every area of life so you can stay strong and keep moving forward. #LiveYielded #ThrivingInChrist
Click To Tweet
Help
My help comes from the LORD, who made heaven and earth. Psalm 121:2
Wisdom
But if any of you lacks wisdom, let him ask of God, who gives to all liberally and without reproach, and it will be given to him. James 1:5
Direction
The gatekeeper opens the gate for him, and the sheep listen to his voice. He calls his own sheep by name and leads them out. Whenever he brings out his own sheep, he goes before them; and the sheep follow him, for they know his voice. They will by no means follow a stranger, but will flee from him; for they don't know the voice of strangers." John 10:3-5
Peaceful Heart
Peace I leave with you. My peace I give to you; not as the world gives, I give to you. Don't let your heart be troubled, neither let it be fearful. John 14:27
Peaceful Home
My people will live in a peaceful habitation, in safe dwellings, and in quiet resting places. Isaiah 32:18
Provision
My God will supply every need of yours according to his riches in glory in Christ Jesus. Philippians 4:19
Protection
Because you have made the LORD your refuge, and the Most High your dwelling place, no evil shall happen to you, neither shall any plague come near your dwelling. For he will put his angels in charge of you, to guard you in all your ways. Psalm 91:9-11
Healing
Praise the LORD, my soul, and don't forget all his benefits, who forgives all your sins, who heals all your diseases. Psalm 103:2-3
Would you like to keep this Promises of God list? Get access to Insider Resources and download the PDF.
Use the Life-Giving Promises of God
You have the power of the promises of God at your disposal. Pursue the help you have in them. God's Word will always produce what it promised.
So friends…choose to be strong, a doer of the Word, and to trust God with every circumstance.
Keep renewing your mind. Continue to move forward. Keep thriving.
Would you help us encourage others with the Word of God by sharing this post?