Life and Marriage: 4 Steps to Keep Walking with God
Welcome to Day 14 of our #GodlyAdventure! Here's wisdom from Beth Steffaniak to help keep your steps firm in walking with God in life and marriage!
---
Ever feel like you've lost your way in marriage? If you're a believer, then you know just how crucial it is to invite Jesus into your daily walk in life and marriage.
But sometimes the demands and busyness of life can distract us from that all-important focus.
Other times we let our spouses lead us down a winding and pointless road of spiritual wandering or vice versa.
Then there are the times when we simply let our own selfish and bitter hearts tempt us toward a road strewn with conflict-ridden potholes.
Even though each one of these paths is tragic—though not unredeemable—the worst of these is to not invite Him to walk with us every single day.
So how do we overcome these wayward and dead-end tendencies, choosing instead to walk with God in our lives and marriages?
4 Ways to Keep Walking with God in the Challenges of Marriage
1. Let Jesus set the pace.
Years ago my husband and I took our three sons to Disney World. The day was coming to a close and it was getting dark. But the crowds were still thick and pushing in on us, even as we tried to stay together. Because of that, our youngest five-year-old son let go of my husband's hand—getting pulled away in the sea of people.
After realizing that he was missing, we began to panic. Thankfully, a Disney worker alerted the other Disney workers to be on the lookout for a separated child. Minutes later, he was located and returned to us—no harm, no foul.
In the same way, our busy lives and schedules can pull us away from staying hand-in-hand with Jesus. Now, Jesus never loses His grip on us! But we definitely can lose sight of Him when we let these other earthly concerns press in on us like that overwhelming crowd did on that day.
Do not let the demands of life overwhelm and distract you from this one very important focus and priority! Find out what it is at the #BloggerVoicesNetwork #GodlyAdventure series. @BethSteffaniak
That's why we need to guard against letting the demands of our schedules determine our pace of life. Instead, we need to let Jesus set the pace by ordering our lives around Him…
But seek first the kingdom of God and his righteousness, and all these things will be added to you. Matthew 6:33 ESV
2. Make time for Him each day.
Have you ever tried to walk with someone who constantly walked much faster than you?
That's how it is when we race past Jesus each day, instead of inviting Him to speak to us, while walking slowly with Him.
So we must carve out time to read His word and pray each day. This doesn't have to be a huge chunk of time necessarily. Just be sure to extend your time by continuing to walk and talk with Him—keeping Him your constant companion all day long. Doing this daily guards against the tendency to spiritually wander.
3. Allow God to refine you in and through the conflicts of marriage.
Sadly, I've often let the conflicts of my marriage discourage and define me, rather than refine me. So I try to keep in mind this important passage whenever conflicts arise in my marriage…
What causes quarrels and what causes fights among you? Is it not this, that your passions are at war within you? You desire and do not have, so you murder. You covet and cannot obtain, so you fight and quarrel. You do not have, because you do not ask. James 4:1-2 ESV
Whenever conflict erupts, I try to identify the desires that I've turned into demands of my spouse. Then I confess and surrender these wayward desires at Jesus' feet. It is then that He meets my needs in a heart-satisfying way.
I also try to focus on my sin first, remembering Matthew 7:4-5 that tells me to take the "log out" of my own eye before trying to remove "the speck" in my mate's.
Both of these paths and approaches provided by God avoid the potholes of conflict in marriage.
4. Recognize Him
Even though it's so important to invite Jesus to walk with us in life and marriage, the truth is, He is always there! This is a lot like the men who were walking along the road to Emmaus (Luke 24:13-32). Jesus was walking with them and they didn't even recognize Him at first.
Does that describe you? Are you going through life without recognizing Jesus' presence and power that's always available to you in your life and marriage?
If so, then don't take another step without recognizing your best walking partner in marriage is God! As long as you stay in step with Him, you'll be able to navigate the twists and turns you face in life and marriage.
Discover 4 ways to keep walking with God while navigating the twists and turns of marriage.
Which of these four strategies do you need to focus on the most in your marriage?
Beth and her husband of 30 years are enjoying the early days of an empty-nest. Now, Beth fills up her days with writing, life-coaching, mentoring, as well as speaking at workshops. You can also find more of her writing and insights at messymarriage.com, as well as hanging out on social media. She also offers more than 35 relationship and spiritual resources in a library that is free to subscribers of her blog.
---
Join us for more encouragement from the 15 Days of Walking with God online event. And make sure you enter the giveaways before time runs out!
Did you enter the giveaway yet?
Week 3 – Walking with God Through Relationships Giveaway: one grand prize of the Grace and Love: When Parenting Is Really Hard kit, a copy of Christmas Peace for Busy Moms, a 6 oz jar of 100% natural Mexican Vanilla Extract, a Marriage Prayer Printable, and a digital copy of Time to Pray: A Prayer Walk through Psalm 103; four secondary winners of the Grace and Love: When Parenting Is Really Hard kit, a 6 oz jar of 100% natural Mexican Vanilla Extract, a Marriage Prayer Printable, and a digital copy of Time to Pray: A Prayer Walk through Psalm 103.
Week 3 – Special Blogger Giveaway
Your Blogging Consultants is giving one blogger 30% off a one hour blog consulting call.
This deal can include SEO, Blog or Pinterest questions/ strategy. It's regularly $100, but you'll get it for $70. It's one of their most popular services!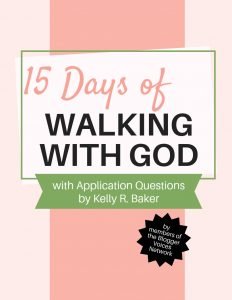 ---
Want to encourage others in their walk with God? Use the icons below to share this post!