How Biblical Love Prevails in Relationships
Here are five practical ways that biblical love prevails in relationships. Learn these plus questions to ask when relationship hiccups come. When you live yielded to God and apply these truths, you'll see your relationships thrive.
---
Life is full. It's a juggling act some days, right? But when it involves relationships, flexibility tells people you love them.
I remember one day when I'd just gotten done being thankful that everything that week was going smoothly. To make sure, I went through a mental checklist to ensure I wouldn't "drop the ball" on anything. Maybe I was getting ahead of myself because that's when my Little Miss started asking to potty train again. It was bad timing.
This was a classic case of a juggling act going smoothly and life throws another "ball" in the mix. Some examples might be sickness, company, or a flat tire. In my case, it was the dreaded potty training.
When she started asking, my heart and mind went in two different directions. My heart was rejoicing at her eagerness, my mind protesting:
I've already packed up all the training materials. We have company. This is not on my agenda today.
But God was helping this Type A, task-oriented woman to realize that people are more important than things. I wanted to convey that to her by my actions and attitude. So I said yes.
Being flexible was an act of love. I changed my plans to see biblical love prevail in that relationship.
When it involves #relationships, flexibility tells people you love them. #LiveYielded
Click To Tweet
Too Difficult?
‪If serving God is feeling too hard, then somewhere we lost the missing element of love—either loving God or people. How do we get love then? Begin by choosing to keep God's commands—because you love Him (John 14:15; 1 John 5:3).
God commands us to love:
1 John 4:21 love your brother
Titus 2:4 love your husband and kids
Matthew 5:44 love your enemies
John 15:12 love one another
That pretty much covers every single person. So we don't get to pick and choose who we are going to love. Rather, the choice is to love as Jesus does. Love is a choice!
Avoiding Ditches
How does biblical love prevail in relationships? What does that look like practically?
In another post, I gave the analogy of walking on Balance Road, and on each side of Balance Road are ditches. The ditches are the extremes we don't want to fall into but instead walk in balance. And I gave some examples.
Here's another example, regarding how biblical love prevails in relationships:
If you're a doormat or even a classic people pleaser, you've fallen into a ditch. On the other hand, if you're extremely selfish, you're in a ditch on the other side.
The balance between the two would be pleasing people because you love them and want to see God glorified through those actions driven by love. That's right where I'm putting my efforts. At least, that's my goal. I hope you'll make it yours, too.
How does biblical love prevail in #relationships? What does that look like practically? Check out these game-changing tips. #LiveYielded
Click To Tweet
With that in mind, here are some biblical ways to improve your relationships.
5 Ways Biblical Love Prevails in Relationships
Let each of you look out not only for his own interests, but also for the interests of others. Philippians 2:4 NKJV
The verses following the one above instruct us to have this same mindset that Jesus did, and they continue with how Jesus lived that out: He came to earth as a man and died on the cross in our place.
I think that's why I keep going back to Philippians 2:4. The verse is simple, and even the application of it can be simple. Note I didn't say easy. 😉
Communication
Learn these communication tips to thrive in your relationships:
Listen. Listening is huge. Interrupting is not respectful.
Repeat back. In so many words, or even verbatim, repeat back what they shared or asked of you. It lets them know you were listening and helps to avoid misunderstandings.
Conflict? This beats accusing the other person right off the bat: Say, "It sounded like you said _____. Did you mean it that way?"
Encouragement. Small but heartfelt encouragement can go a long way.
Meeting someone for the first time? Use the acronym FORM (you all know I'm a fan of acronyms!)
Family. Ask them about their family.
Occupation. Inquire what job they have/why they like it.
Recreation. Find out what they like to do.
Ministry. If they're saved, ask them what they feel called to do. (If not, this one can stand for Miscellaneous.)
Commitment
When you're committed to a relationship, the unimportant doesn't get in the way. You make that relationship a priority. I'm working on this one because I'm list-oriented.
Prayer
"Look also on the things of others." That applies to prayer, too! How many times have I prayed for only my needs? That's why I told you that I pray for you daily. Because that helped me be accountable to it.

Forgiveness
The previous post of this series thoroughly covers forgiveness so I won't spend a lot of time here. Just remember that if you're unhappy with someone, forgiving them releases you. If you're holding it, you're going to feel the weight of it. Forgiving is the type of release that you can feel. Jesus mentioned retaining:
"If you forgive the sins of any, they are forgiven them; if you retain the sins of any, they are retained." John 20:23 NKJV
Covenant
Covenant means, "I'm here even when the relationship sucks. Even when we strongly disagree." Nobody is gonna agree on 100% of everything 100% of the time with someone else. So keep that in mind (instead of panicking/arguing/running), if a disagreement rolls around with someone. Love lets it roll off like water off a duck's back.
Here are five practical ways that biblical love prevails in #relationships. #LiveYielded
Click To Tweet
Questions to Remember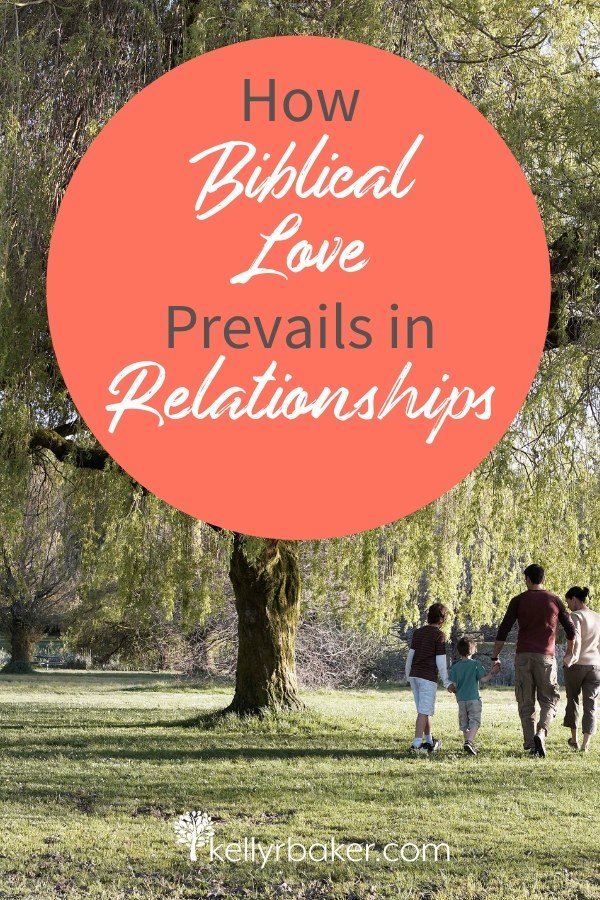 So if you reach a hiccup in your relationship, start asking yourself questions:
Am I being flexible?
Does serving God feel too hard?
Am I walking on Balance Road in this relationship?
Do I need to improve my communication skills?
What's my commitment level?
Does my prayer life cover this person's needs?
Am I forgiving or retaining?
How can I keep the principle of covenant?
These questions and thought processes help me break down how biblical love prevails in my relationships. And the more I practice that, the more I can ask only one question:
Easy peesy, right? LOL Nope! We can't do this in our own strength, but God gives us the grace to walk in love when we abide in Him.
If you reach a hiccup in your #relationships, start asking yourself these questions. #LiveYielded
Click To Tweet
How else can biblical love prevail in relationships? Share in the comments below.
Want to encourage others in their walk with God? Use the icons below to share this post!