How Our Stories Reveal God's Bigger Story
Each of our stories are being used by God for a greater narrative. Here's some encouragement from Blogger Voices Network Contributor Christin Baker to tell us how and why our stories are not our own. And bloggers, please link up your wonderful words below!
---
The other day I ran into someone I knew at our local library. I hadn't seen her in awhile, so I asked the standard question: "How are you doing?" She looked down, and paused. She didn't put on a fake smile. She couldn't pretend that everything was ok. She went on to share about an unexpected loss she had recently endured in her family.
That day, through tears and tight hugs, God set up a divine appointment for our paths to cross. As my kids played in the play area, I was able to offer a much-needed listening ear. I also shared my story of a devastating miscarriage, and the painful loss of my father at a young age.
In that moment, the Holy Spirit enabled me to offer love and compassion with the same comfort I had received in my own dark moments of despair. As we parted ways, I will never forget her words. "Christin, you are always filled with such joy, and during the hard times in my life, you always show up!" (We ran into each other years ago during another difficult season in her life.)
Now that's what I call a divine appointment!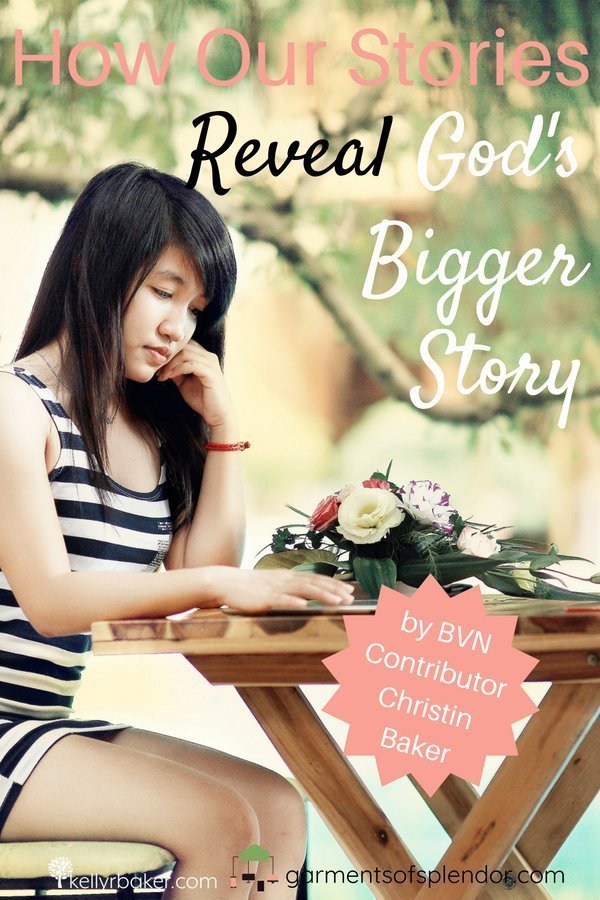 As I think back on our exchange, I wonder what would have happened had I not shared pieces of my story. Our stories are sometimes messy and painful. But we just never know how much someone else may need to hear our stories to get them through the next day.
The events and circumstances the Lord allows in our lives are not meant to be kept to ourselves, but to share with others. The single threads in our stories point others to the woven tapestry of God's bigger story.
His story of unending love, grace, and glorious splendor.
Stories of Ordinary People
God's Word is filled with stories of ordinary people like you and me who were used in extraordinary ways, unveiling the curtain to reveal the greatest Storyteller of all time.
The story of Abraham tell us that we too, can become a friend of God. (James 2:23)
The story of Joseph reminds us that the power of forgiveness is stronger than the power of evil. (Genesis 50:20)
The story of Moses lets us know that we can speak for God despite our insecurities. (Exodus 4:15)
The story of Ruth and Naomi tells us that though we endure bitter suffering, we are not left without a kinsman-redeemer. (Ruth 4:14)
The story of David shows us that despite our sins and shortcomings, we are still royalty. (2 Samuel 7:8-9)
The story of John the Baptist declares that we can boldly prepare the way of our coming King. (Mark 1:3)
The story of Peter admonishes that though we may stumble, God can use us while He builds His Church. (Matthew 16:18)
The story of Jesus reveals God clothed in flesh, who scorned the shame of the cross to clothe us in robes of righteousness. (Hebrews 12:2)
Our Stories Are Not Our Own
So what's your story?
How does your story of pain, purpose, tragedy and triumph weave into the greater story of our awesome God? Our stories are not our own, but for the edification and encouragement of those in need of glimpses of Christ's glory.
So let's use our platforms to proclaim to the nations that our Redeemer lives, and that He can redeem our stories for His grandeur and magnificent splendor!
But for this purpose I have raised you up, to show you my power, so that my name may be proclaimed in all the earth. Exodus 9:16 ESV
---

The #BVNetworkParty is open to all faith bloggers. Come join the party! #BVNetwork #Linkup Click to Tweet
The #BVNetworkParty is open to all Christian faith bloggers as well as the members of the Blogger Voices Network. If you're not yet a member, we'd love for you to join for additional opportunities!
We'd really love for you to link back to Blogger Voices Network in your post or site. Or grab a badge! White (top) or transparent (bottom).
I'm speaking and leading worship for my church's ladies retreat next Friday, so I'm leaving the linkup open for two weeks. I need this week to finish preparing. Please keep me in prayer! And come back next Friday and linkup again with different posts. Thanks! ~Kelly
---
Want to encourage others in their walk with God? Use the icons below to share this post!
*shared at some linkups