How I Experienced the Blessings of God's Pruning
God's pruning is good. I experienced the blessings of God's pruning when I allowed God to balance the areas of my life that had tilted.
---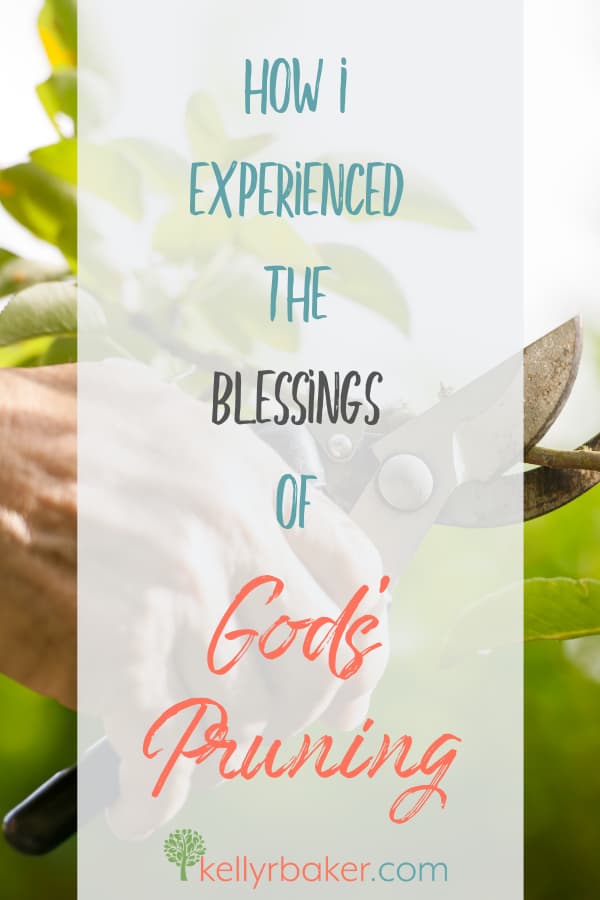 Hello, neighbors! This is my first post in almost three years! What happened to me? The backstory of my spiritual pruning is pretty humbling…
Prior to my previous post, God was dropping some pretty loud hints that I needed to step back from writing and give more attention to my health and family.
I didn't.
I'm an all-or-nothing kind of girl. I'm passionate even to a fault sometimes. I convinced myself that I was still able to keep on pushing myself to the same high intensity that I had been for months.
God knew that I hadn't been giving my body the rest it needed and it created all kinds of havoc. Actually, spiritually speaking I wasn't being exactly obedient to His leading, and that is an open door to reap what I had sown.
Don't be deceived. God is not mocked, for whatever a man sows, that he will also reap. Galatians 6:7
Consequences of My Own Disobedience
So I became very sick with adrenal fatigue and my doctor said my pancreas was struggling. I didn't see the spiritual reaping at the time, or maybe I just didn't want to, but I completely blamed everything on natural circumstances. Yes, our bodies can become taxed by a number of reasons, but after I finally let go of this blog I could see what God was showing me.
I didn't want to stop blogging, but He made it so clear to me that daily rest was to be a priority. I have told Him many times that I will give Him everything. As a result, I have seen God move mightily in my life when I have yielded to Him. I remember finding freedom when the Holy Spirit led me to cut up an idol years ago.
So I surrendered this blog completely to Him, even if that meant I would never come back to it. I didn't allow myself to touch my blog. Not respond to a single comment. Not tweet a single post. I was being "pruned." We don't talk about it very much, but it's right there in the Word:
Every branch in me that does not bear fruit he takes away, and every branch that does bear fruit he prunes, that it may bear more fruit. John 15:2 ESV
I experienced the blessings of God's pruning when I allowed God to balance the areas of my life that had tilted. #LiveYielded #ThrivingInChrist
Click To Tweet
The Blessings of God's Pruning
So how did I experience the blessings of God's pruning? God put back into balance the areas of my life that had tilted.
The only reason this reshaping happened was because I yielded to Him. I saw the peace I was seeking in my everyday life. I saw the blessing of His pruning in specific ways:
Gave us another Baker boy after 6 years of infertility.
Healed me from Adrenal Fatigue and other hormone imbalances.
A fresh vision for my family, including making my boys disciples of Jesus.
Granted me the desire of my heart to become a morning person.
While being spiritually pruned isn't fun, the spiritual growth is worth it.
RELATED: Use Theses Spiritual Disciplines to Grow Spiritually
I am grateful for your prayers, and so blessed by those of you who wrote me saying you were praying for me. 🙂 I am astounded that even though I didn't touch this blog for a couple of years, God still used it to minister encouragement to people all over the globe. Welcome, new KRB Insiders! I am praying daily for you.
Have you ever had the experience of being pruned by God? What happened?
SaveSave
SaveSave