How a Christian Can Live Yielded to God
Learn how to live yielded to God in all areas of your life. Discover what it means, examples, and verses to help you live yielded to God.
---
The word yield has more than one definition. When I refer to yielding your life to God, I'm referring to the definition that says "to surrender or submit, as to superior power" (source: dictionary.com)
And what's neat is that when you yield (surrender to God) you will yield (give forth or produce) fruit.
That's something to keep in mind when surrendering to God seems difficult. Just remember that there is wonderful fruit coming!
Blessed is the man who trusts in Yahweh, and whose confidence is in Yahweh. 8 For he will be as a tree planted by the waters, who spreads out its roots by the river, and will not fear when heat comes, but its leaf will be green, and will not be concerned in the year of drought. It won't cease from yielding fruit. Jeremiah 17:7-8
But his delight is in the LORD's law. On his law he meditates day and night. 3 He will be like a tree planted by the streams of water, that produces its fruit in its season, whose leaf also does not wither. Whatever he does shall prosper. Psalm 1:2-3
Your first inclination when you hear the word surrender might be dread. But God gives newness of life and life more abundantly!
What It Means to Live Yielded to God
What does it mean to live yielded to God? I had three stages of discovery when it came to learning about living yielded to God. Let me unpack those for you while I attempt to explain.
The First Stage
When I was a young Christian I had a friend who often used the phrase "Lord, not just Savior." I would nod and keep listening, probably giving the impression that I knew exactly what was being conveyed. At the time, I thought I did. But in reality, I didn't.
Christians can get saved and treat Jesus as their Savior during their whole lives and never grow into allowing Jesus to be their Lord and Master. The latter is a relationship with God at another depth.
The Second Stage
But as I grew in spiritual maturity, I started seeing certain passages come across my notice. For a long space of time, it was frequent. And each time I heard or read one of them—I was uncomfortable.
Being the "good Christian" young lady that I wanted to be, I made sure I said "amen" with the rest of them in church when the speaker would elaborate on verses that fell into the category of living yielded to God. But my insides squirmed at phrases such as…
…deny yourself
…you are not your own
…present your body a living sacrifice
I felt like someone should have given us a warning:
For Serious Christians Only
The Third Stage
After my epiphany that God would love me no matter what, I had a fresh desire to delight in my wonderful Savior. That desire led me to looking for ways I could please Him in my life. The more I walked in this new perspective, the more freedom I found.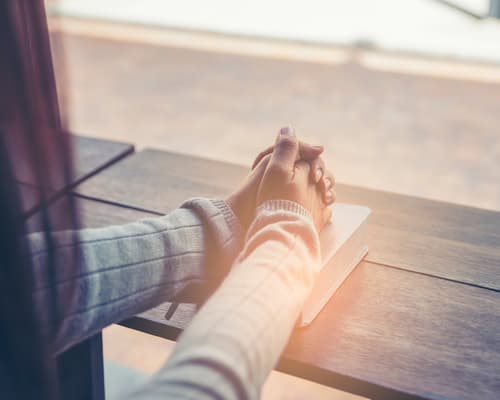 Join the Victorious Prayer Journey
Let's engage in spiritual warfare, remove hindrances to prayer, and use your God-given authority.
We keep your address safe. See our privacy policy.
GET THE FIRST LESSON
How to Live Yielded to God
You might be wondering how to live yielded to God to find more freedom for yourself. The first truth you need to know is that God is not a controller. He doesn't make or force anyone to love or follow Him.
When God put man in the garden at the beginning, He told Adam and Eve that they couldn't eat from a certain tree (see Genesis 2:15-17). Why? Because it had to be man's choice.
You have that same choice—every day.
It may not be to eat from the forbidden tree in the Garden of Eden, but it is your choice what you partake in day in and day out.
If you decide to surrender your whole life to God, allowing Him to be Savior and Lord, then that means you're:
obeying Him in the moment
listening and following Him in the midst of your daily choices
serving Him, instead of your sinful nature
Mankind had to choose in the Old Testament:
If it seems evil to you to serve the LORD, choose today whom you will serve; whether the gods which your fathers served that were beyond the River, or the gods of the Amorites, in whose land you dwell; but as for me and my house, we will serve the LORD." Joshua 24:15
The choice was given in the New Testament:
No one can serve two masters, for either he will hate the one and love the other, or else he will be devoted to one and despise the other. You can't serve both God and Mammon. Matthew 6:24
Jesus said therefore to the twelve, "You don't also want to go away, do you?" John 6:67
And the choice is yours today.
Ways to Live Yielded to God
Here are some specific ways to live yielded to God in the moment:
I can respond to the devastation of a broken dream by saying, "Who is my hope in? Jesus. Not the dream itself. He is the dream giver. Jesus, my hope, is the anchor of my soul (Hebrews 6:19-20). That means my emotions don't have to be all over the place."
I could "do me" or I could be a doer of the Word (James 1:22-25).
There are endless ways to live yielded to God because He cares about every detail of your life. You only need to invite Him in and discover that His Word is alive and it's relevant to you!
Learn how to live yielded to God in all areas of your life. Discover what it means, examples, and verses to help you live yielded to God. #LiveYielded #ThrivingInChrist
Click To Tweet
Verses to Help You Live Yielded to God
2 Corinthians 5:17
Therefore if anyone is in Christ, he is a new creation. The old things have passed away. Behold, all things have become new.
Luke 9:23-24
He said to all, "If anyone desires to come after me, let him deny himself, take up his cross, and follow me. 24 For whoever desires to save his life will lose it, but whoever will lose his life for my sake will save it.
1 Corinthians 6:19-20
Or don't you know that your body is a temple of the Holy Spirit who is in you, whom you have from God? You are not your own, 20 for you were bought with a price. Therefore glorify God in your body and in your spirit, which are God's.
2 Peter 3:18
But grow in the grace and knowledge of our Lord and Savior Jesus Christ. To him be the glory both now and forever. Amen.
Romans 12:1-2
Therefore I urge you, brothers, by the mercies of God, to present your bodies a living sacrifice, holy, acceptable to God, which is your spiritual service. 2 Don't be conformed to this world, but be transformed by the renewing of your mind, so that you may prove what is the good, well-pleasing, and perfect will of God.
Hebrews 5:12-14
For although by this time you should be teachers, you again need to have someone teach you the rudiments of the first principles of the revelations of God. You have come to need milk, and not solid food. 13 For everyone who lives on milk is not experienced in the word of righteousness, for he is a baby. 14 But solid food is for those who are full grown, who by reason of use have their senses exercised to discern good and evil.
Romans 13:14
But put on the Lord Jesus Christ, and make no provision for the flesh, for its lusts.
Galatians 2:20
I have been crucified with Christ, and it is no longer I who live, but Christ lives in me. That life which I now live in the flesh, I live by faith in the Son of God, who loved me and gave himself up for me.
Find more verses in the 31-Day Living Yielded Scripture Writing Plan.
The Key
I pray you will choose to live yielded to God in all areas of your life. As Romans 12:2 reveals above, the transformation comes from renewing your mind with the Word and applying it.
How do you live yielded to God in your life?