How Biblical Love Prevails
Learn what the best answer is for how biblical love prevails in the introduction of this series. It's evident in those who choose to live yielded to God.
---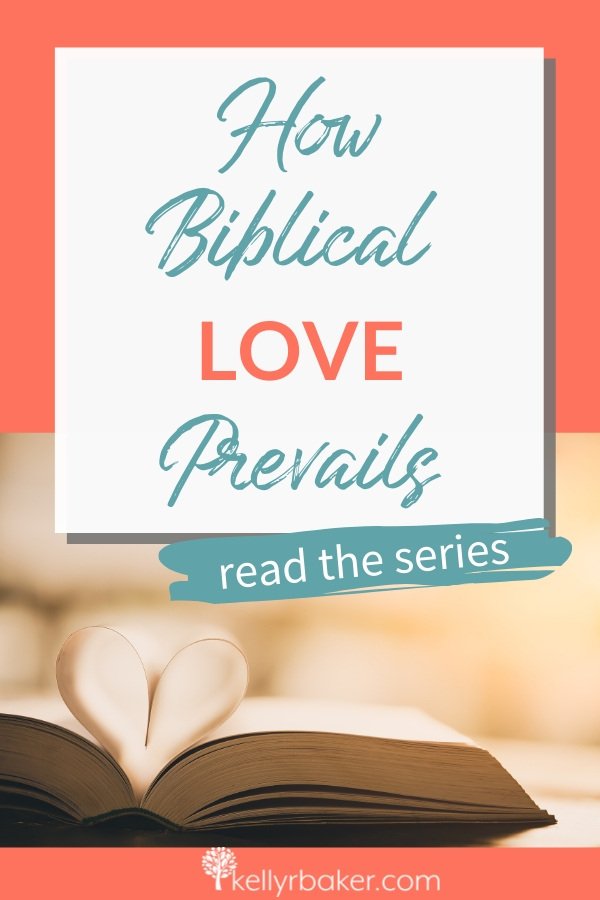 Exactly how biblical love prevails is determined by how you apply biblical love. It's evident in those who choose to live yielded to God. In that case, I guess we need to begin with what biblical love is.
It's safe to go back to the words of Jesus. What did He say about love? Without pause, the answer wants to roll off my tongue:
Jesus said to him, "'You shall love the LORD your God with all your heart, with all your soul, and with all your mind.'
"This is the first and great commandment.
"And the second is like it: 'You shall love your neighbor as yourself.'
"On these two commandments hang all the Law and the Prophets."
Matthew 22:37-40 NKJV
Ten thousand sermons can be preached on those few verses. We've heard about the "two greatest commands" (Mark 12:31) over and over. I've certainly heard it mentioned and read about them more times than I can remember.
But That's Not the Best Answer
My husband preaches at least a few Sundays out of each year at our church. It was one of these ordinary Sundays that I sat diligently taking notes on what he said. Now I don't remember what he preached about that day without getting out my notes, but one part of his message made me begin to rethink everything.
He brought up the two famous commands listed above, and while he talked, I fought the pull to let it gloss over my spirit from repetitive familiarity.
Next, he pointed out one of Jesus' commands, but it was as if I'd heard it for the first time.
"A new commandment I give to you, that you love one another; as I have loved you, that you also love one another.
By this all will know that you are My disciples, if you have love for one another."
John 13:34-35 NKJV
Why was it a NEW command to love one another? You see, the Israelites were used to hearing the first and second commands for generations (see Deuteronomy 6:4-5; Leviticus 19:18). But Jesus takes it to a whole new level!
"In other words, Jesus was saying, 'Don't love your neighbor as yourself. Love them as I do.'"

— Justin D. Baker
Jesus raised the bar. The comparison is no longer as ourselves, but as He loves.
Wow!
If I compare how I love myself, I'd say I want to meet all my needs, take great care and consideration, pamper myself, and so on. But—my "self" is selfish.
Jesus went beyond His "self." He went beyond His needs.
Jesus wasn't making it harder. It's just different. The truth is, when you abide in Him, you allow the Holy Spirit to work in and through you this way of loving. So don't turn it into another "law" of legalistic Christianity.
If we truly love as Jesus loves, we will see God glorified every time.
How Biblical Love Prevails in Practice
So now I'm on a journey to discover how to love as Jesus loves—in practice. I want to know more. What does that look like in our day-to-day living?
We are going to explore "how biblical love prevails" this February. That is our theme and we will look at it beginning with our source and prime example: God. He set the foundation in how He loves us.
We will even dive into how love prevails over heartbreak. Love is a healing balm and will overcome hurt and rejection. We will give some straight talk and encouragement on a subject that touches us all at one time or another.
We'll continue talking about how love prevails when life gets sticky. Yep, you guessed it: relationships. How we interact with others (co-workers, neighbors, in-laws, kids, etc.) certainly needs to begin with love.
And we'll wrap up the blog hop with how love prevails in regard to marriage. Singles can even take note. I wish I had learned more before I was married. There's something to be said for learning from others' mistakes. God knows we need strong marriages today more than ever.
Who knows, maybe you'll see something in a new light that will be a game changer for you. Or perhaps you'll receive a fresh revelation of truth that will be the answer to the prayer you've been praying.
I've seen the fruit of choosing to love in my life. I pray you see it in yours as well.
Learn what the best answer is for how biblical love prevails in the introduction of this short series. #LiveYielded #ThrivingInChrist
Click To Tweet
Here's the general breakdown:
Week 1: How Biblical Love Prevails in Its Full Expression
Week 2: How Biblical Love Prevails Over Hurt
Week 3: How Biblical Love Prevails in Relationships
Week 4: How Biblical Love Prevails in Marriage

So if you'd like to soak in biblical wisdom about love to apply to all aspects of life, then join us this February. I'll add links to the weeks above when it goes live so make sure you bookmark this page. Follow me on social media to make sure you don't miss it (my links are on the top right of this page).
---
Want to encourage others in their walk with God? Use the icons below to share this post!