The 30-minute method will help you be effective instead of frustrated. Try scheduling your time and see your greatest productivity happen.
---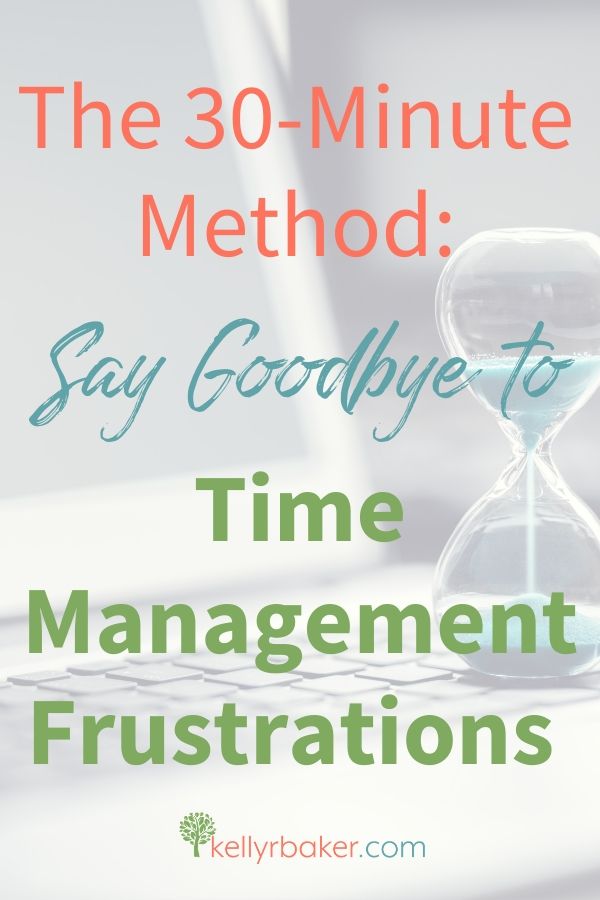 Do you ever feel like you're drowning in responsibilities while struggling to find time to do what you want to do? Like spending time with God?
Productivity and scheduling your time are intricately related. If better time management or greater productivity is your goal, then let's talk about time.
Imagine the world without time. Years, months, weeks, hours, and minutes don't exist. Weird, isn't it? I can't wrap my mind around it, but it makes me think of God before He created the heavens and the earth. It boggles the mind that He is the beginning and the end.
Erase Time Management Frustrations
Have you ever wanted to cuff the hands of the clock? Me, too, yet God in His wisdom created time in our world. Without it, life would be chaos.
I can relate to mayhem; I have four kids. On top of that, I act like I have more than 24 hours in the day, rationalizing I will work faster. When it doesn't happen, I plead with God to hold the sun for me like He did in Joshua 10:12-14.
The truth is, I could fix my routine without God moving heaven and earth.
All I need is the wisdom He provides to bring order to my day. Revamping my family's schedule with the growing changes of little kids is normal. Living life without it in place is the real dilemma.

So teach us to number our days that we may get a heart of wisdom. Psalm 90:12 ESV
Introducing the 30-Minute Method
Join me at The Blogging Writer with Meghan Weyerbacher to continue reading this post. Find out how the 30-minute method will set you up for greater productivity and improve your life. There I will show you how to get started. While you're there, check out Meg's helpful blog. I know you're going to love her! CLICK HERE
---
Like this post? Pin it for later! Your friends would probably like it, too! Use the icons below to share it with them. They'll be glad you didn't keep it all to yourself!
SaveSave
SaveSave
SaveSave
SaveSave