The 30-Minute Method: Say Goodbye to Time Management Frustrations
The 30-minute method will help you be effective instead of frustrated. Try scheduling your time and see your greatest productivity happen.
---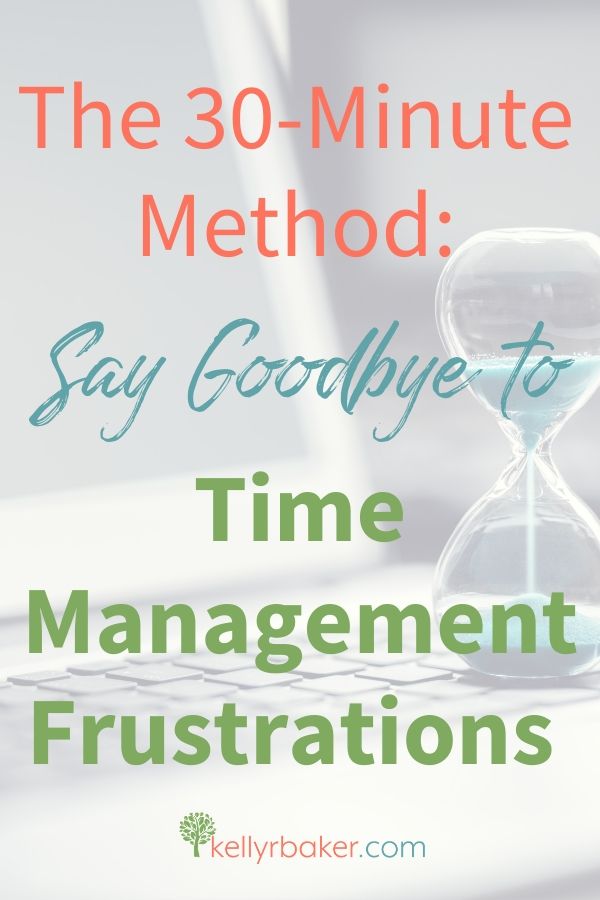 Do you ever feel like you're drowning in responsibilities while struggling to find time to do what you want to do? Like spending time with God?
Productivity and scheduling your time are intricately related. If better time management or greater productivity is your goal, then let's talk about time.
Imagine the world without time. Years, months, weeks, hours, and minutes don't exist. Weird, isn't it? I can't wrap my mind around it, but it makes me think of God before He created the heavens and the earth. It boggles the mind that He is the beginning and the end.
Erase Time Management Frustrations
Have you ever wanted to cuff the hands of the clock? Me, too, yet God in His wisdom created time in our world. Without it, life would be chaos.
I can relate to mayhem; I have four kids. On top of that, I act like I have more than 24 hours in the day, rationalizing I will work faster. When it doesn't happen, I plead with God to hold the sun for me like He did in Joshua 10:12-14.
The truth is, I could fix my routine without God moving heaven and earth.
All I need is the wisdom He provides to bring order to my day. Revamping my family's schedule with the growing changes of little kids is normal. Living life without it in place is the real dilemma.
So teach us to number our days that we may get a heart of wisdom. Psalm 90:12 ESV
The 30-Minute Method Brings Productivity
"Time is money" insinuates time is valuable. You could spend a daily paycheck of $24.00 various ways. You have the same daily allowance in the hours that make up a full day.
Let's suppose all your tasks took 30 minutes to complete. What if you divided your day into 30-minute blocks and allotted all your tasks into them? If you had a recurring project, at the end of every week you would have devoted 3.5 hours to it. Plan each undertaking this way, and be productive with your time.
For example, if you set 1:00-1:30 to organize closets 6 days a week, at the end of the week you would have spent 3 hours getting them in order. (I may or may not need to do this.)
How the 30-Minute Method Will Help You
As a creative, I don't want to buckle down to a schedule, but there is wisdom is using daily restraint. I realize it takes discipline to keep to it. But even through inconsistency, I gain the benefits on a semi-regular basis.
"The God of the Universe could have spoken creation into existence with a single word. Yet He completed each day's task and then waited for the next day to begin creating again….Why? God modeled the benefits of daily restraint." — Crystal Storms
The 30-minute scheduling method will improve your day because you'll be:
saving time by having pre-made decisions
How to Start
"As writers, the first thing we need to edit is our life." — Glennis Whitwer
Make a list of daily tasks. Optionally decide the approximate time each task will take.

"Number" a page with 30-minute time blocks, starting from the time you want to wake up each day.

Plug each task into an assigned time block. Begin with any that have an established time, such as sleep and mealtimes.

Edit, and adjust as necessary.

Use it as a trial, and then make changes where needed.

Update as seasons of life change.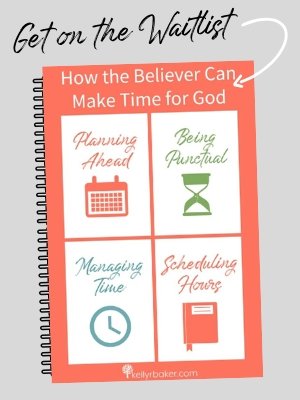 This method provides a great deal of flexibility. The goal is not to keep working on a task for a full 30 minutes, but keep moving throughout your day to make sure you cover all your tasks. You will probably find that you will complete a task in less than 30 minutes. In that case, you could move to the next time block, or spend that few "extra" minutes sneaking a piece of chocolate. Just sayin'.
It's true that extenuating circumstances can take your day in a different direction. But on a normal day, the 30-minute method will help you be effective instead of frustrated. Try scheduling your time and see your greatest productivity happen.
To get the rest of the information, get on the waitlist to be notified when the How the Believer Can Make Time for God eBook is available.
---
Like this post? Pin it for later! Your friends would probably like it, too! Use the icons below to share it with them. They'll be glad you didn't keep it all to yourself!
SaveSave
SaveSave
SaveSave
SaveSave