Take Five Rejuvenation Strategy
Use the take five rejuvenation strategy for when you feel tired, worried, stressed, or empty from serving those around you all day.
---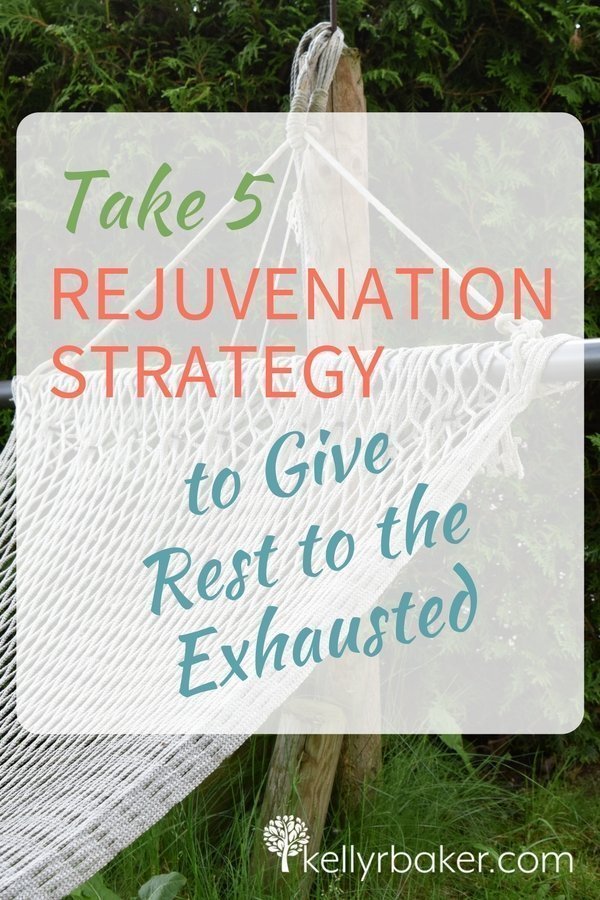 Are you close to exhaustion? If you said yes, then it's time for a rejuvenation!
"Close to one-third of adults (31%) always turn to coffee or caffeinated beverages as their way to make up for lost sleep," The Better Sleep Council says, based on their statistical findings.
I know all too well the exhaustion that comes from simply taking care of kids. You trudge wearily those last few steps before climbing into bed, and lay down, your mattress, sheets, and pillow hugging you. Oh, sweet, but weary relief!
I haven't had the gift of a full uninterrupted night's sleep since January 2015. (Y'all pray for Little Miss to start sleeping through the night, ok?)
While I was recovering from adrenal fatigue, God gave me a wise mandate: daily rest is a priority. His words have echoed in my head recently, and He has been reminding me to be diligent to obey Him concerning His leading for Sabbath rest from years ago.
As hectic as life can be sometimes, it seems as if one has to toil simply to keep rest included in the daily routine.
Whatever our roles or responsibilities, we are not helpful to those around us if we don't first take care of ourselves, spiritual health included. Today I'm sharing how to "take 5" to produce a rejuvenation for your heart and body.
Take 5 Rejuvenation Strategy
When you feel tired, worried, stressed, or empty from serving those around you all day (all the mama's are nodding their understanding), I'm inviting you to join me in this proactive strategy.
Time needed: 5 minutes
Directions to use the Take 5 Rejuvenation Strategy:
Find a place to sit down (lay down if you can).

While the Take 5 Rejuvenation Strategy can technically be done while standing, sitting will help to naturally rest your body. Laying down is the best because all of your muscles get the chance to rest.

Declare the promises from the following 5 verses over your soul:

The LORD gives his people strength. The LORD blesses them with peace (Psalm 29:11, NLT).
My people will abide in a peaceful habitation, in secure dwellings, and in quiet resting places (Isaiah 32:18, ESV).
He gives power to the faint, and to him who has no might he increases strength (Isaiah 40:29, ESV).
Come to me, all who labor and are heavy laden, and I will give you rest (Matthew 11:28, ESV).
Casting all your anxieties on him, because he cares for you (1 Peter 5:7, ESV).

Breathe in His peace and refreshing life.

The same God that spoke creation into existence, provides peace to you. You don't have to do anything. Just receive it!

Repeat this strategy multiple times a day if necessary.

Each time you use the Take 5 Rejuvenation Strategy, it gives your brain a break from the tasks and anxieties of the day.
Life-Giving Rejuvenation
Join me in a this "Take Five Rejuvenation Strategy" for rest. God's Word is life-giving. Speaking His truth aloud over your body makes a difference.
The enemy doesn't need an inch. Let these five scriptures producing rest pad your spiritual haven.
Matthew 6:26 tells says you are more valuable than the birds of the air, and God takes care of them.
Look at the birds of the air, for they neither sow nor reap nor gather into barns; yet your heavenly Father feeds them. Are you not of more value than they? Matthew 6:26 NKJV
Ask Him to show you what you can change to get the sleep you need. He cares about the details of your life and will answer your request.
Sometimes the pressing need for rest will add anxiety to my already overwhelming days. When I lay down and pray the above promises over my life, He releases His peace. I take deep breaths while still laying down and it naturally releases stress.
He truly is the Prince of Peace. So take five minutes and do this. It will make a difference.
How else can you find rejuvenation when you need rest? Tell us in the comments.
---
Want to encourage someone? Share this post!