How to Use Spiritual Seasons of Life to Get Closer to God
Wondering what spiritual season you're in with God? Check out these spiritual seasons of life, and how to use them to get closer to God.
---
Do you ever wonder what kind of spiritual season you're in with your relationship with God?
Sometimes it feels like you're soaking everything up like a sponge…and other times you're alone in a wilderness.
For everything there is a season, and a time for every purpose under heaven: Ecclesiastes 3:1
In order to look at spiritual seasons of life, I first like to look at the seasons of nature.
What season is it in your part of the world?
It's Autumn here now; the season that inevitably arrives every September for those of us in this part of the Northern Hemisphere.
I have to rally my dismal heart when I look at the leaves that are still green, knowing they won't be green much longer. Even though the artwork of God displayed during autumn can be breathtaking, I basically dread the cold months. As someone who is usually cold year round, winter is just torture to me.
Changes and Patterns
The earth has a variety of weather. You might be in a part of the world that doesn't have four distinct seasons. But whether you're in a temperate zone with four different seasons or not, you can learn more about our powerful God from them.
You have probably noticed changes in your walk with God, but have you ever noticed any patterns? God is into patterns. Consider the many patterns in nature: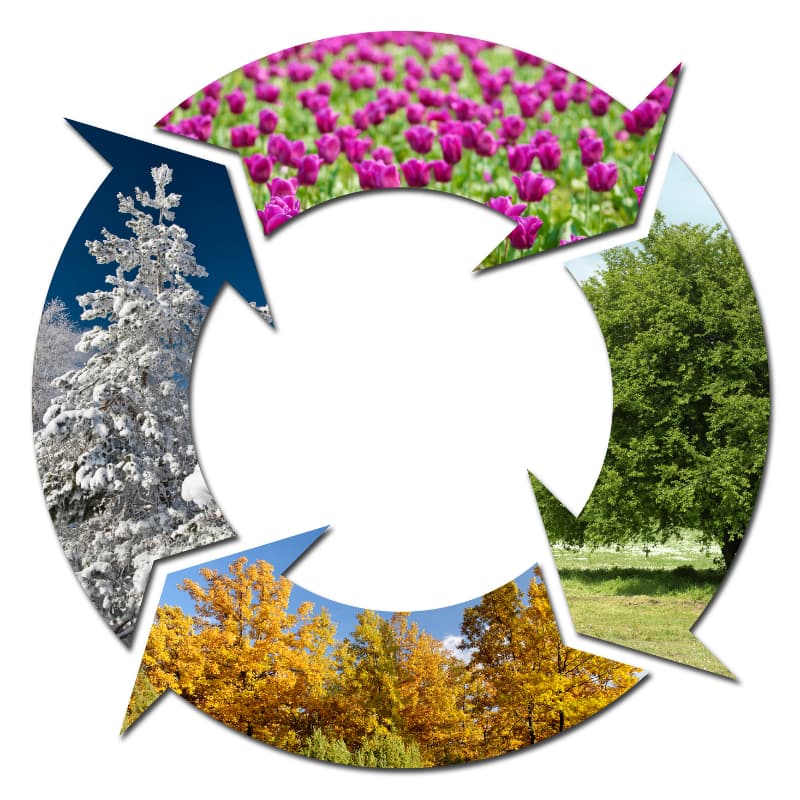 the water cycle
the life cycle of a seed
seasons of the year
measures of time
Patterns exist all around us…including spiritually.
We can have autumn, winter, spring, and summer with God, so to speak. In thinking about the changes that take place to bring us from one season of the year to another, we can relate spiritually.
4 Spiritual Seasons of Life
Spiritual Autumn = Revelation of Specific Sin
One time I heard a series on the Fruit of the Spirit. During those teachings I asked God to show me where I wasn't measuring up with the Fruit of the Spirit in my life. That was a big order! Just look at the list of fruits…
​​But the fruit of the Spirit is love, joy, peace, patience, kindness, goodness, faith, 23 gentleness, and self-control. Against such things there is no law. Galatians 5:22-23
God didn't reveal every fruit I was lacking in, but was merciful and specifically showed me one—long-suffering. I guess you could say I would have been more spiritually mature if I had dealt with it the first time He showed me, but I didn't. It was more of a series of times over a few weeks when I didn't respond properly to yet another person or circumstance, and I would recognize that gentle nudge and remember my request.
After a while I recognized I was in a spiritual autumn, where I finally came to the revelation that there was a habit pattern I needed to deal with. In other words, I needed to fall away from the bad fruit in my life. (See what I did there?)
Spiritual Winter = Repentance and Denying Self
What was my spiritual winter like? Just like real life. Cold, dark, and dreary. Dying plant life, just like my flesh. I know what you're thinking, I can't wait to get into that! But I decided not to mope around, just remembering about my problem, but actually deal with it.
I didn't stop after praying just once, but I took time to look up a couple of scriptures to wash me clean. (I used Galatians 5:22 and Proverbs 25:28 which says, "Like a city that is broken down and without walls is a man whose spirit is without restraint.") Doing these simple things were actions of repentance and denying myself.
But I needed to continue doing that daily to form new habit patterns (Luke 9:23).
Spiritual Spring = Renewing the Mind
When I found myself responding with a lack of long-suffering, it was a time for me to think differently. I would stop my old self from rising up and say, no! Quoting, meditating and deciding to do my two scriptures each time transformed my old habit pattern, a process of a spiritual spring.
I love nature when it's spring! I get so excited when I see new growth appearing on trees everywhere. A spiritual springtime is an exciting time because you are starting to see a change in yourself when you are renewing your mind in a specific area. Spiritual growth is starting to happen!
RELATED: How to Renew Your Mind with Bible Verses
Spiritual Summer = Righteousness // Recognition
One day I looked around and saw that I was more and more responding the way the Bible says I should. I was changing! His righteousness in me was evident. This, my friends, is Spiritual Summer!
Therefore if anyone is in Christ, he is a new creation. The old things have passed away. Behold, all things have become new. 2 Corinthians 5:17
And what is so exciting about this is that people recognize you look like Jesus!
Wondering what spiritual season you're in with God? Check out these spiritual seasons of life, and how to use them to get closer to God. #LiveYielded #ThrivingInChrist
Click To Tweet
Spiritual Seasons Are A Spiritual Growth Cycle
When God shows us something in us that does not glorify Him, He expects us to deal with it.
Every branch in me that doesn't bear fruit, he takes away. Every branch that bears fruit, he prunes, that it may bear more fruit. John 15:2
The natural seasons continue from one to the next. In the same manner, consider each spiritual season a passage to continue through. We can't pass to the next season until we go through the next season of our spiritual journey.
For it is God who works in you both to will and to work, for his good pleasure. ‭‭Philippians‬ ‭2:13‬
Which spiritual season are you in?
*all verses taken from the World English Bible, which is in the public domain