How to Be Strong in the Lord Day by Day
Just like an athlete, you and I need to be strong in the Lord. This is a daily goal. So let's get some training underway. Apply these 5 ways and make them into habits.
---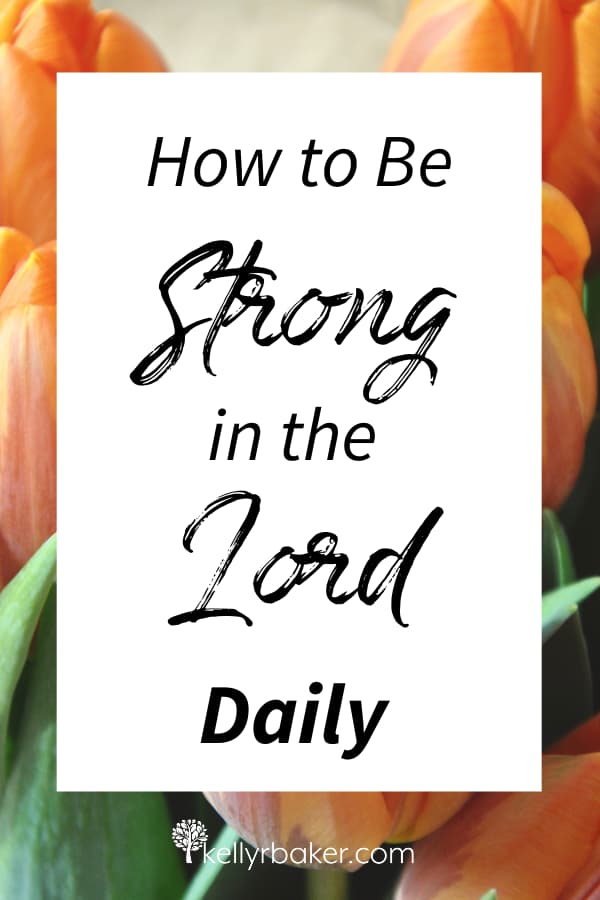 A determined athlete aspires to one day be such an excellent contender in his field that he'll be able to fulfill his dream. Some grit, yeah?
My nephew comes to mind. He loves to swim and takes swim classes and competes locally. He may even be able to compete in the Olympics one day.
But besides just swimming, he's building his strength and endurance through long bike rides and weight training, etc.
This is what Paul said about athletes:
All athletes are disciplined in their training. They do it to win a prize that will fade away, but we do it for an eternal prize. 26 So I run with purpose in every step. I am not just shadowboxing. 27 I discipline my body like an athlete, training it to do what it should. Otherwise, I fear that after preaching to others I myself might be disqualified. 1 Corinthians 9:25-27 NLT
Just like an athlete, you and I need to be strong in the Lord.
Finally, be strong in the Lord and in the strength of his might. Ephesians 6:10
This is a daily goal. So let's get some training underway. You with me?
Great!
5 Ways to Be Strong in the Lord Daily
Choose to Be Strong
It's a choice! Really. God didn't make you a puppet, and He's not a controller. Make the choice daily to be strong in the Spirit. This choice will play out in your life, your day, your relationships, and your calling.
David told his son Solomon, "Take heed now, for the LORD has chosen you to build a house for the sanctuary. Be strong, and do it." 1 Chronicles 28:10
He repeated this command to be strong, exhorting him further in verse 20:
David said to Solomon his son, "Be strong and courageous, and do it. Don't be afraid, nor be dismayed, for the LORD God, even my God, is with you. He will not fail you nor forsake you, until all the work for the service of the LORD's house is finished."
Sounds a lot like God commanding Joshua when He gave him new territory in Joshua 1:9, doesn't it?
Haven't I commanded you? Be strong and courageous. Don't be afraid. Don't be dismayed, for the LORD your God is with you wherever you go. Joshua 1:9
Both Solomon and Joshua could have chosen to walk away from the assignment God gave them, but they didn't. They chose to be strong in the Lord by remembering that God was with them.
What about you? Right now, the Spirit is inviting you to make a choice to be strong wherever it's needed.
Keep Your Mind on God
An important way to be spiritually strong in the Lord is to keep your mind focused on God.
Now that's easier said than done since new studies suggest we have about 6,200 thoughts that go through our head in a given day.
But the battle is in the mind, right?
That's why the instructions in Colossians 3:2 is to, "Set your mind on the things that are above, not on the things that are on the earth."
Isn't it wonderful to receive a text message from someone with an encouraging word for you? It gets you thinking differently.
Sometimes I've set up my iPhone to remind me of God's promises, like text messages from God. I chose some verses that are promises from God and set silent alarms to go off throughout the day (such times like 7AM, 10AM, 1PM, 4PM, 7PM). Here are some examples:
I give you my strength (Isaiah 40:29)
I am with you (Hebrews 13:5)
I love you (Jeremiah 31:3)
I am providing for you (Philippians 4:19)
I am your friend (John 15:15)
What a sweet way to go about the day! And it helps me memorize the locations of the verses more completely.
It's a really great strategy to apply, isn't it?
Philippians 4:8 gives us a list of what to meditate on: Finally, brothers, whatever things are true, whatever things are honorable, whatever things are just, whatever things are pure, whatever things are lovely, whatever things are of good report: if there is any virtue and if there is anything worthy of praise, think about these things.
If you run all your heart reactions through that standard you'll be on the right track!
Be Ready to Fight the Battle
After Paul said to "be strong in the Lord" in Ephesians 6:10, he said to, "Put on the whole armor of God, that you may be able to stand against the wiles of the devil." (verse 11).
In order to be ready to fight the battle, you need to put on (use) your armor. (If you want to understand what it means to use the Armor of God, see Days 2 – 10 in the 40 Days of Daily Bread series on the blog.)
Do you know how to fight the battle? Strengthen your prayer life by following Jesus' example.
Early in the morning, while it was still dark, he rose up and went out, and departed into a deserted place, and prayed there. Mark 1:35
Do you lack consistent prayer time? Lately I've been convicted of this. And I'm making changes.
Jesus IS God. Why did HE need to pray? I can only speculate, but it seems to me that as a human He needed:
the direction of the Spirit
the continuation of power and anointing
to stay humble
to keep His heart without sin and filled with compassion
So basically, to stay spiritually strong!
The break down of this verse from Mark is telling:
Who: Jesus (is in you)
When: before daybreak/early in the morning
What: got up and went out
Where: to an isolated place
Why: to pray
Let's rise up and start our day strong!
Surround Yourself with People That Will Keep You Strong in the Lord
Just like Paul mentored Timothy as a spiritual father, you need a spiritual mentor that will encourage you to keep growing spiritually.
You therefore, my child, be strengthened in the grace that is in Christ Jesus. 2 Timothy 2:1
This could even be someone that "mentors from a distance," such as someone you glean from online. But I highly recommend you befriend someone that can speak into your life in person. There is such a difference with that kind of connection.
This person will be one who will mentor you with grace, not condemnation. It's the Holy Spirit who convicts, and He can do the job through a human vessel without someone adding condemnation or shaming into the mix.
God connects grace to weaknesses—His grace, to be exact.
He has said to me, "My grace is sufficient for you, for my power is made perfect in weakness." Most gladly therefore I will rather glory in my weaknesses, that the power of Christ may rest on me. 2 Corinthians 12:9-10
This happens by pulling on the power of God's promises whenever you have a weakness that is controlling your walk with God.
In that case, the Father is ready to make you an overcomer instead. Need help with that? Check out my post weaknesses to victory and make sure you use the related resources in Insider Resources.
Sometimes you're gonna need to roll up your sleeves and do the productive work of applying the Word to your specific sin/weakness or need. But it's always worth it. God's Word doesn't return void (Isaiah 55:11) and won't fail in your life.
Produce Fruit
To thrive means to grow well. We're all about thriving in Christ here. That means that you and I are going to pay attention to what's going on in our walk with God.
Check yourself. See if you are producing the fruit of the Spirit.
Remain in me, and I in you. As the branch can't bear fruit by itself unless it remains in the vine, so neither can you, unless you remain in me. John 15:4
This remaining in Him is an abiding, continual walk with God. So a beneficial biblical principle is examining your walk, as it mentions in 2 Corinthians 13:5:
Examine your own selves, whether you are in the faith. Test your own selves.
Pride is sometimes an underlying root cause of fruitlessness. It can make us blind to ourselves. But Jesus revealed a great indicator of how you can determine what's in your heart—by paying attention to what you're saying.
The good man out of the good treasure of his heart brings out that which is good, and the evil man out of the evil treasure of his heart brings out that which is evil, for out of the abundance of the heart, his mouth speaks. Luke 6:45
So basically, if you hear yuck coming out of your mouth, you will want to check your intake. If you put garbage in, you'll get garbage out. And that's not good, right?
The whole point of producing fruit is to be a blessing and witness for God.
Like an athlete, we need to be strong in the Lord. Let's get some training underway for this daily goal. Apply these five biblical ways. #LiveYielded
Click To Tweet
Apply These Ways to Be Strong in The Lord Daily
Choose to Be Strong — What area do you need to choose to be strong in? Your walk with God? Your relationships? What is God laying on your heart to do for His glory?
Keep Your Mind on God — How will you keep your mind set on God throughout the day? Will you apply one of these strategies or do something else?
Be Ready to Fight the Battle — Does the idea of rising up resonate with you? What could be your first step toward making that a reality?
Surround Yourself with People That Will Keep You Strong — Who are your spiritual mentors?
Produce Fruit — What does producing fruit look like in your life? Can you see how that could be a blessing to others and bring glory to God?
I'm praying Ephesians 3:16 for you, "that he would grant you, according to the riches of his glory, that you may be strengthened with power through his Spirit in the inner person."
I hope this helps you. Please share this so others know what the Bible says about being strong in the Lord!