The Smart Response When There's Delay
Waiting on something? How about some biblical ways to take action when there's delay? You can be productive instead of discouraged while waiting.
---
Are you waiting for something?
They say the anticipation leading up to an event can be more exciting than the actual event. That excitement is like the height of a mountain. And then sometimes delay spoils what you are looking forward to. And disappointment drags you down.
Maybe that's why the dip of discouragement feels like such a low. It feels like the opposite of that mountain high.
Some people start whining to God when their desire is delayed. I never do that. (Ha!)
Being content is difficult. Paul said in Philippians 4:11 that he's learned to be content no matter what situation he's in, but that verse and I don't seem to be getting along lately. I'm working on it.

I see others getting their chance and I want a green light, too. My heart will begin to whine, I just want—and I'll try to stop myself right there and correct where that was going.
Complaining is a hindrance. Just ask those wilderness-wandering Israelites.
So I say be smart and keep moving forward when life impedes your goals.
How is one supposed to keep moving forward when there's delay?
One night the Holy Spirit answered that exact question. He must know I have a thing for acronyms because here's what I learned:
4 Biblical Ways to Be Productive While Waiting
Worship through it.
I love the phrase "pour out your heart" from Psalm 62:8 (see below). That means you can be real with God. He knows how you're feeling anyway. He is a safe place—a refuge, just like the verse says:
Trust in him at all times, O people; pour out your heart before him; God is a refuge for us. Selah Psalm 62:8 ESV
Put on some worship music and let your emotions splash into God's lap. Cry it out! Crying releases what is pent up inside. Lay your disappointments at His feet in surrender. Then after you've poured out your heart, and you're feeling empty, start worshipping Him because He is your king. Because you love Him. He will not leave you disappointed! He brings peace and encouragement in place of disappointment.
Ask questions.
Why is this happening to me?
Can't I just have _____?
Why does it seem like I'm the only one who isn't getting to ____?
I hear myself asking these "why me?" type questions, and I realize they're not the right kind to be asking!
See, a major key to waiting is preparation. Instead, ask "What do you want me to specifically do to prepare?" Asking God for directions will channel your energy to having a proactive focus. Pray for wisdom (James 1:5) and more discernment. You need wisdom and direction in areas that will help you to prepare for whatever you're waiting for.
Asking God for directions will channel your energy to having a proactive focus.
Invest your time in preparation.
One of God's promises is found in Matthew 7:7 (ESV), "Ask, and it will be given to you; seek, and you will find; knock, and it will be opened to you." God doesn't leave us wondering; when we spend time seeking Him, He gives directions. Even if it's one detail at a time, He comes through on His promise. Now do what He lays on your heart both practically and spiritually.
Think of Noah's call to build the ark. God gave him many directions about how to build the ark, about the animals, and about food for the people and animals. It took many years putting everything into place. Embrace the vicissitudes of the season. The time isn't wasted. You are simply preparing for what's ahead.
Trust God.
I know this is easier said than done so I give you permission to talk to yourself. Yep! Tell yourself you trust God. Out loud. Go ahead, say it. It makes a difference.
You are telling your heart what is true, and you are also letting God be in charge. There is power in words.
Pray some verses that remind you to trust Him. It makes the trusting easier. You can trust Him because He's holding your life in His hands. "The course of my life is in Your power." Psalm 31:15a HCSB That's good to know!
---
RELATED: The Holy Spirit Uses the Dictionary: 10 Verses on Patience
---
Wait Can Spell Action
Delay is like the narrow neck of an hourglass. It's an inevitable part of life. But there is beauty in waiting; God intends this period to be an encouragement to us. Notice the four actions above spell an acrostic for the word WAIT:
W…worship through it
A…ask questions
I…invest your time in preparation
T…trust God
Wait for the LORD; be strong, and let your heart take courage; wait for the LORD! Psalm 27:14, ESV
Delay is inevitable. Here are four practical ways to take action while waiting.
How do you deal with a delay?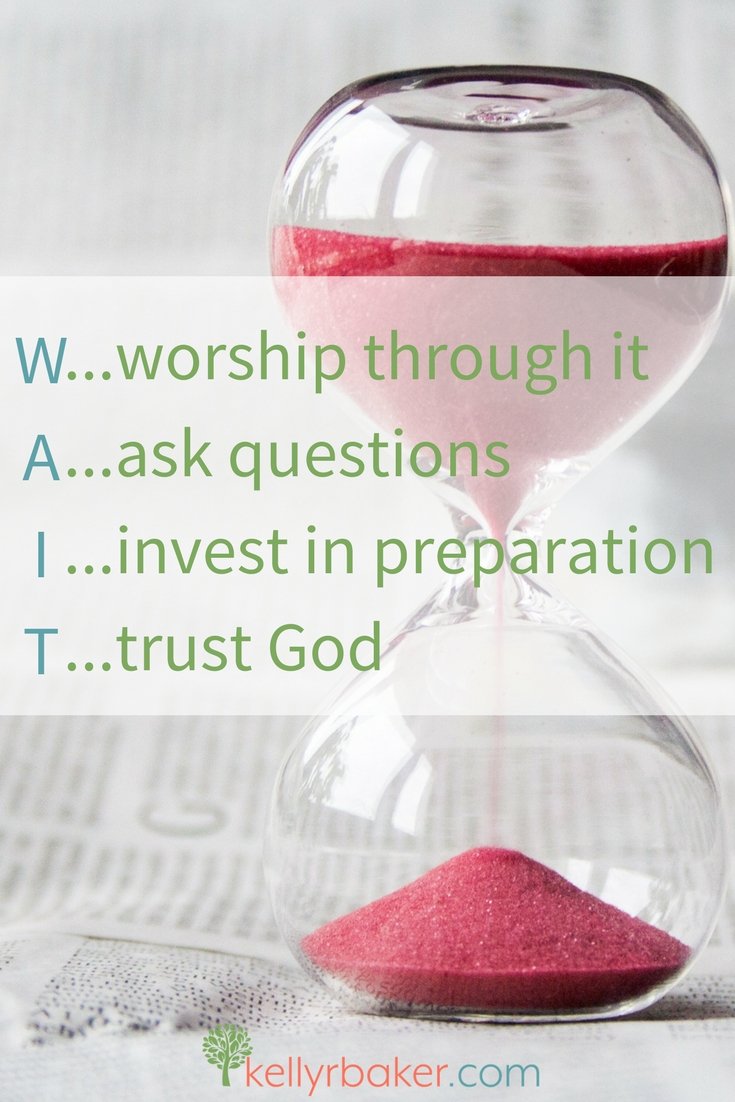 Pin the image above as a reminder!
---
Do you know someone who would be helped by this post? Use the icons below to share it!
SaveSave
SaveSave
SaveSave
SaveSave