Forgiveness Verses & Quotes to Get Heart Wholeness
Here are some powerful Bible verses on forgiveness, quotes on how to forgive, and a new resource to find heart wholeness.
---
As I sit and write this, the grey skies are unleashing a steady, heavy rain. I glance out the window; the raindrops dance in abandon atop the kids outside toys, a memory of brighter, happier looking days.
Doesn't that picture resemble a broken heart at times?
Grey skies reflect an overcast heart…
raindrops mirror sad tears…
drenched toys unable to give joy to eager children feels like the hurt that left life in a mess.
The unwelcome repetitive occurrence of rejection in my life has changed me. And I almost don't want to say it because putting it out here is a kind of accountability, but—I will:
I used to be very extroverted. Now I'm completely different, quite content as an introvert. I think the rejection made me climb into a type of retreat that God's been calling me out of for several months now. (And at this moment, during 2020's pandemic, I've stayed complacent about it. It's time to yield my life to God. Gotta practice what I preach, right?)
Don't get me wrong. I'm not saying if you're an introvert you need to change to an extrovert for heart wholeness. But God didn't make me an introvert. Who am I to change what He created? Not only that, but this change has hindered me of doing all that God wants me to do.
Heart Wholeness
So today, I'm reviewing some of my favorite Bible verses on forgiveness and my favorite quotes on how to forgive that I've pulled from previous posts.
I'm sharing it with you because I want your heart to be whole as well. When we remember and apply the wisdom God's given us on relationships, you will find heart wholeness. Hurt and rejection don't need to define us, friend.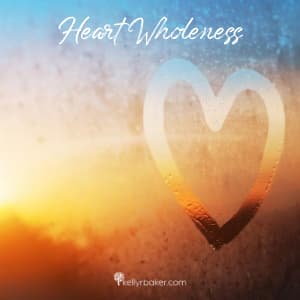 Announcement
I've decided to make a new category here on the blog called Heart Wholeness. It's where you can find the help for healing from hurt, learn how to forgive (biblically), and discover some wisdom to navigate your sticky relationships in one place. I'm right there with you. It's a process, right? But heart wholeness is what God desires for us.
Get the heart wholeness that God desires for you. He's the One who heals our heart from hurt. #ThrivingInChrist #LiveYielded
Click To Tweet
8 Powerful Forgiveness Quotes
When we boil forgiveness down to its simplest form, we find that it is a decision. That's it.

— Cathy McIntosh
No matter how hard it is to forgive or how many times we have to do it, we must remember that forgiveness isn't optional for a Christian (Colossians 3:13).

— Kelli LaFramboise
God showed me there's a delicate balance between the memories of my past that float through like a passing cloud, and choosing to remember them like staring at the sky to see what shape I can make from the cloud. Those passing clouds? They're there, but I don't look up.

— Kelly R. Baker
Forgiveness is the medicine that heals a wounded heart.

— Kelly R. Baker
God calls us to powerful reconciliation that not only helps our brothers and sisters find healing, but moves us toward right relationship with Him.

— Nicole Kauffman
To be a Christian means to forgive the inexcusable because God has forgiven the inexcusable in you.

– C. S. Lewis
See, we might say, "I love her, but if she does that again…!" That's loving until the person disappears behind the wall of offenses you have towards them. The wall is built brick by brick, row by row, until all you see is the wall. A person surrounded by walls is a lonely person.

— Kelly R. Baker
"There's a difference between putting up a wall, and putting up a shield."

—Susan Hosek
Check out these 8 powerful quotes on how to forgive. #ThrivingInChrist #Quotes
Click To Tweet
5 Must-Know Bible Verses on Forgiveness
1 Corinthians 13:4-5 NLT
Love is patient and kind. Love is not jealous or boastful or proud or rude. It does not demand its own way. It is not irritable, and it keeps no record of being wronged.
John 20:23 NKJV
If you forgive the sins of any, they are forgiven them; if you retain the sins of any, they are retained.
Ephesians 4:2 NLT
Always be humble and gentle. Be patient with each other, making allowance for each other's faults because of your love.
Proverbs 10:12 ESV
Hatred stirs up strife, but love covers all offenses.
Colossians 3:12-13 NKJV
Therefore, as the elect of God, holy and beloved, put on tender mercies, kindness, humility, meekness, longsuffering;
bearing with one another, and forgiving one another, if anyone has a complaint against another; even as Christ forgave you, so you also must do.
You Don't Measure Up, You Yield to God
Those Bible verses on forgiveness are some powerful words, aren't they? They tell us how to treat other people. How can you and I "measure up" to them? We can't, by ourselves. It takes yielding to God's Spirit.
In order to be a doer of the Word (James 1:22), first we must choose to obey God's instructions. Then we must rely on the Holy Spirit's help while "in the moment." When we are weak, He is strong. Just yield.
And that's also how I'm going to climb out of my introverted ways and go back to the extrovert God made me.
One day at a time.
One moment at a time.
What are your favorite Bible verses or quotes on forgiveness?