5 Tips for When You Don't Understand Your Bible Study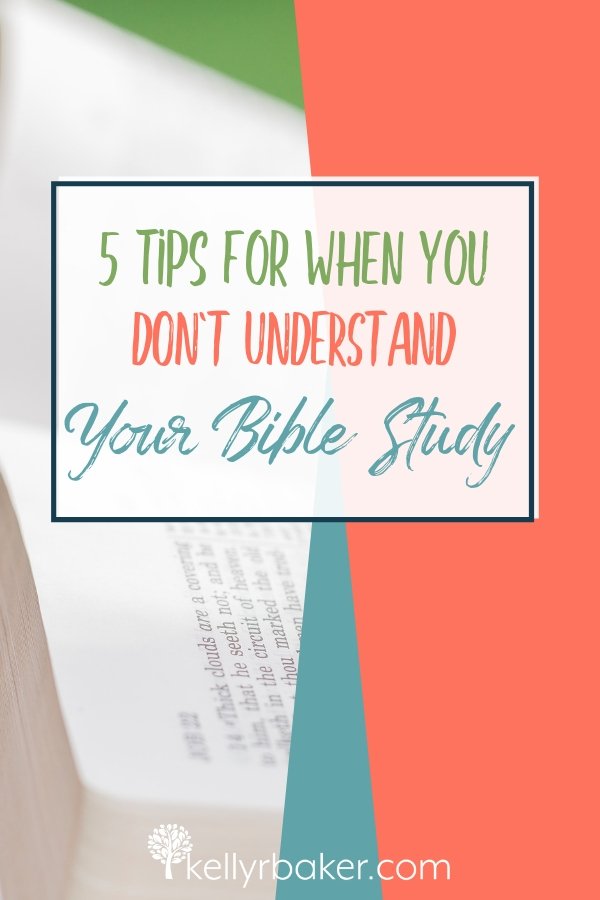 I opened the precious pages of my Bible, eager to dig into studying His word one morning. All my desired materials were within reach. Ready to meet with God, my heart swelled in accord with the high notes of the birds singing. Those happy notes were the only sounds gently breaking the stillness of the morning. Everything was ready, so I began reading the passage I intended to use for my Daily Time with God.
But the more I read and tried to make sense of the verses, the meaning escaped me. What in the world is this passage talking about?
I felt a little bit like an ignorant Believer. Shouldn't all Christians know what this means? I've been following Jesus for so many years now, why can't I understand this?
With a huff, I flipped to some familiar favorite promises to soothe my heart. I needed them to drown out the lies that said I wasn't a good enough Christian and that I'd never understand the Bible.
A reader wrote recently and mentioned that even after reading and studying, she still didn't understand the Word. Her frustration reminded me of the experience I just shared with you. Well, dear reader, we're not alone. Even Jesus' disciples didn't understand everything He said!
So some of his disciples said to one another, "What is this that he says to us, 'A little while, and you will not see me, and again a little while, and you will see me'; and, 'because I am going to the Father'?" So they were saying, "What does he mean by 'a little while'? We do not know what he is talking about." John 16:17-18 ESV (emphasis mine)
What if we changed the frustration into a motivation to discover more of the mystery of God?
What if we changed the frustration into a motivation to discover more of the mystery of God?
Try These Tips When You Don't Understand Your Bible Study
Here are five tips I use for when I choose to learn what I don't understand in my Bible study.
ONE: God is on your side.
God wants you to understand what you're reading in His Word. 2 Timothy 3:16 (NASB) says, "All Scripture is inspired by God and profitable for teaching, for reproof, for correction, for training in righteousness." Ask Him for a greater spiritual discernment (1 Corinthians 2:14).
TWO: Select and check your sources carefully.
An English dictionary isn't the same as a Hebrew or Greek dictionary. If you use Blue Letter Bible online, the interlinear and the Greek Lexicon is easy to access. See some tips on how to use Blue Letter Bible as well as some super simple Bible study techniques in this post. Additionally, determine the basic five W's (who/what/when/where/why) while keeping the passage in context culturally. Take advantage of Bible dictionaries, commentaries, etc. to help with this. So much of this and more are at your fingertips at BlueLetterBible.org.
THREE: Write down what you're learning and studying.
Research shows that when you take notes, you will retain more. When I'm in a church service or conference, I'll take notes. I have a dedicated spiral just for doing this which is separate than the journal I use for my Daily Time.
Taking notes will help you get a greater grasp of what the speaker is saying, and you can jot down any questions you have. Once the service has concluded, you can ask the speaker to further explain what you didn't understand.
It's not necessary to write down everything the speaker says, but I find it helpful to try to copy down the scripture locations at the very least. Other notes I take are any quotes or points put up on the screen, and anything that stands out to me.
FOUR: Position your heart to receive from a mentor.
In other words, be teachable. You need pastors, teachers, and mentors to help you when you don't understand your Bible study. Their function in the Body of Christ is to equip us until we mature into the fullness of Christ (which happens at Jesus' second coming). So while we're breathing, we will need someone to look up to. It doesn't matter how long you've been a Christian or how old you are, you will never "arrive" to the point of being self-sufficient. That would be a dangerous place to be. Even pastors need accountability, encouragement, and someone to speak into their lives.
Ask your mentor to teach you something, and then find someone who could benefit from the same truth and share it with her. One time my pastor's wife called me and said she had just finished going through a leadership book with a spiritual mother, and then wanted to go through a chapter a week of the same book with me. And from there the pattern can continue.
---
---
FIVE: Pray the following promises.
Remember, His Word doesn't return void (Isaiah 55:11). So when you pray His promises, you activate it in the Spirit realm, and it will come back fruitful.
If any of you lacks wisdom, let him ask God, who gives generously to all without reproach, and it will be given him. James 1:5 ESV

But you have been anointed by the Holy One, and you all have knowledge. 1 John 2:20 ESV

But the anointing that you received from him abides in you, and you have no need that anyone should teach you. But as his anointing teaches you about everything, and is true, and is no lie—just as it has taught you, abide in him. 1 John 2:27 ESV
Experience Brings Understanding
Spiritual maturity and comprehension comes with knowledge and experience. We learn from the Word and then apply it do our lives. That's being a "doer of the Word and not a hearer only" as it says in James. This is where the experience comes into the picture. When we are going through a trial, we find verses to help us through it.
But be doers of the word, and not hearers only, deceiving yourselves. James 1:22 ESV
Dig into the conditional promise in Proverbs 2:1-12. This passage is chock full of good stuff. I look at this passage through the following breakdown:
Vs. 1-4 = IF
Vs. 5 = THEN
Vs. 6-8 = WHY
Vs. 9-12 = THEN
Be patient. The understanding will come as you keep moving forward in your walk with God. Don't allow the Thief to steal your joy!
What else can you do when you don't understand your Bible study?
---
Want to encourage others in their walk with God? Use the icons below to share this post!
*shared at some linkups
Less than a minute to Pin it!