Are You a Zechariah? Learn from 7 Bible Verses on Doubt
Are you a Zechariah? Learn from 7 Bible verses on doubt instead in this interactive Daily Time™ Devotional. Stay nourished this Advent.
* This is week one from God With You: A Personalized Advent Devotional
---
Week 1: Zechariah's Admonition
Read: Luke 1:5-23 (-25)
Recently I received an email that made my heart sink. Just a few days prior, I was rejoicing for what I thought was God's provision. But the email that showed up in my inbox left me feeling frustrated and bewildered. Things were not as they seemed afterall.
After speaking to multitude of counselors to gain wisdom on how to move forward, there was still a nagging something left in my heart. The frustration was somewhat soothed and disappointment overtook the bewilderment. But opening the cupboards of my heart and scrutinizing the contents, doubt was left hanging.
Did one email take away God's promise to me? I had to admit, no, that wasn't the case. Could this have happened to reveal the lack of trust in God? Possibly.
The doubt wasn't going to go away on its own. I had to pray like the man did in Mark 9:24, "I believe. Help my unbelief!" And then I needed to change garments. I had to choose to cast down doubt and put on faith instead.
God with Zechariah
I love how in verse eight of our passage the NLT says, "One day." Zechariah was just having an ordinary day, going about his usual duties when God showed up in a big way in his life.
Zechariah's prayer was heard. God was with him; He sent the angel Gabriel to give Zechariah the message that his prayer was heard (v. 13).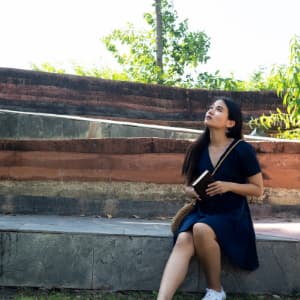 I don't know about you, but I think if an angel appeared telling me that God had heard my request and explained how it was all going to come down, I don't think there'd be any room for doubt! And when you look at Bible verses about doubting (see below), I'm getting the impression that we should make no room for doubt.
But the heart is "desperately wicked, who can know it?" (Jeremiah 17:9). So we need to deal with it.
The truth is, God speaks to me all the time and makes Himself plain. Yet I doubt. Do you?
Zechariah's story is a cautionary account to remind us that God is with us, hearing our prayers, answering us, and we can fully trust Him.
7 Bible Verses About Doubt (and what to do instead)
Matthew 14:31
Immediately Jesus stretched out his hand, took hold of him, and said to him, "You of little faith, why did you doubt?"
Since Jesus asked him why, I will ask myself why I doubt whenever it creeps into my heart.
Matthew 21:21
Jesus answered them, "Most certainly I tell you, if you have faith and don't doubt, you will not only do what was done to the fig tree, but even if you told this mountain, 'Be taken up and cast into the sea,' it would be done.
Faith is the opposite of doubt. It's great to "put on" after "putting off" doubt.
Mark 11:23
For most certainly I tell you, whoever may tell this mountain, 'Be taken up and cast into the sea,' and doesn't doubt in his heart, but believes that what he says is happening, he shall have whatever he says.
What we say is going to affect whether we doubt or believe!
Are you a Zechariah? Learn from 7 Bible verses on doubt instead in this interactive Daily Time™ Devotional. Stay nourished this #Advent. #LiveYielded
Click To Tweet
Acts 10:20
But arise, get down, and go with them, doubting nothing; for I have sent them.
If God's behind it, we can rest assured.
Acts 11:12
Then the Spirit told me to go with them, doubting nothing. Moreover these six brethren accompanied me, and we entered the man's house. (NKJV)
No room for doubt!
1 Timothy 2:8
I desire therefore that the men in every place pray, lifting up holy hands without anger and doubting.
Keep praying!
James 1:6
But let him ask in faith, without any doubting, for he who doubts is like a wave of the sea, driven by the wind and tossed.
Pray in faith!
Journaling Time
Write: The angel answered him, "I am Gabriel, who stands in the presence of God. I was sent to speak to you and to bring you this good news." Luke 1:19
Consider: Write the following points to note in your journal.
V. 6. Zechariah was righteous before God
V. 13 He'd already been praying
V. 15 God gave him additional instructions referring to the answer to his prayer
V. 13-17 The angel revealed what would happen
V. 18-20 Beware the consequence of doubt
V. 24 What God says will come to pass
Reflect: What are you currently doubting God about? Can you pinpoint the seed of doubt regarding that area (i.e. what started you doubting)?
Pray: Father God, I give You all my doubtful thoughts. I refuse to let it hinder me any longer. Instead, I choose to trust in You Lord with all my heart and lean not to my own understanding as it says in Proverbs 3:5.
Challenge: Try memorizing one of the Bible verses on doubt above.
---
Want to encourage others in their walk with God? Use the icons below to share this post!