How to Release Control for Trust in God
Learn how to release control for trust in God. Plus nine Bible verses on trusting God. Get the free worksheet to eradicate doubt.
---
Let me be honest: I like to be in control. I like to be in charge of my day, my projects, my kid's schedule. Those are in my jurisdiction, right?
Since I don't like to waste minutes, I'm multitasking every chance I get for the utmost productivity. My toothbrush is in one hand, the baby monitor in the other to check on the littles. I switch from toothbrush to hairbrush with my right hand, and from baby monitor to iPhone with my left. A few strokes through my blond-streaked locks while checking the weather. I'm tackling tasks simultaneously all day long. My Type A personality begs for order, swiftness, and that sweet satisfaction of eliminating an item on the to-do list.
I have my goals in mind, birthed from some God-plans. He gave a big idea to me, and I'm whittling away at putting it into place one tiny step at a time. In control. My jurisdiction now, right?
I thought I understood; I didn't.
The problem is, I wasn't prepared for God's response to me in prayer. I simply asked Him if He had a new One Word for me. He deposited the word trust in my spirit. My thoughts rolled to those God-plans and my goals to see it through.
Yeah, God, I can see how I'm really going to need to trust You to see all this come to fruition.
But then, I didn't hear Him cheer me on the way I expected. Instead, He pushed back my timeline for His plans.
No, God. Not that! Haven't I learned the wait game before?
I reluctantly wondered if my One Word should be wait instead of trust. But He interrupted my thoughts, and I saw Him take my neatly laid plans for the big idea He gave me and turn them on their side. As they slid out of place in my mind I could see Him taking back the control of "my jurisdiction."
Releasing Control
I thought God had figuratively directed me into the kitchen to follow a new recipe, culminating everything I've learned thus far. For two years I've been teaching my second oldest son how to cook and bake. Even at age 10, I can release him in the kitchen on some dishes and not worry because he's proven he can produce them with excellent results.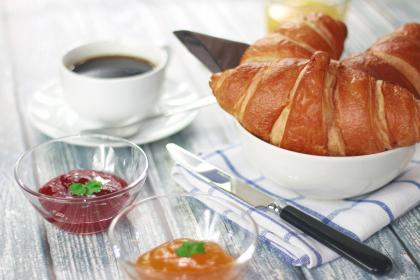 However, even when you've learned to cook or bake, there are certain concoctions that need your tutor directing over your shoulder if it's going to turn out well. It's the details that are going to make a difference and the specific timing of certain steps that will make or break that dish. I learned this while attempting to bake sweet potato croissants. I misinterpreted a line, flubbed through my confusion, and ended up with good, yet small, croissants. The next time I made them, my knows-what-she's-doing sister-in-law happened to be in the kitchen with me that day and clarified some steps. That second result? Large, fluffy, mouth-watering croissants.
God wants to direct over my shoulder while I carry out His plans. No, it's not just waiting. It's releasing my control of it all: the tiny steps, the timing, the waiting, the preparation during anticipation. And while I'm doing that, I have to trust.
Faith is complete trust in someone or something. Although it's not always easy to apply, I can have faith, or complete trust in, God. Faith is trusting God's character, not my ability, therefore, faith guarantees fact from chance.
9 Bible Verses on Trusting God
If I'm truly going to release control for trust in God, I'm going to need to go back to the Word. Here are nine verses on trusting God to pray and apply that will give you peace.
Trust in the LORD with all your heart, and do not lean on your own understanding. Proverbs 3:5 ESV

And those who know your name put their trust in you, for you, O LORD, have not forsaken those who seek you. Psalm 9:10 ESV

The LORD is my strength and my shield; in him my heart trusts, and I am helped; my heart exults, and with my song I give thanks to him. Psalm 28:7 ESV

Commit your way to the LORD; trust in him, and he will act. Psalm 37:5 ESV

Trust in him at all times, O people; pour out your heart before him; God is a refuge for us. Selah Psalm 62:8 ESV

He is not afraid of bad news; his heart is firm, trusting in the LORD. Psalm 112:7 ESV

It is better to take refuge in the LORD than to trust in man. Psalm 118:8 ESV

Let me hear in the morning of your steadfast love, for in you I trust. Make me know the way I should go, for to you I lift up my soul. Psalm 143:8 ESV

Whoever gives thought to the word will discover good,and blessed is he who trusts in the LORD. Proverbs 16:20 ESV
Insider Resource
I created a printable worksheet of practical ways to remember truths about trusting and apply it to anywhere I need to trust God. I'm sharing how to identify doubts, eradicate them, and put your trust in God. It can be found in Insider Resources.
What do you need to release control to God and fully trust in Him about?
---
Want to encourage others in their walk with God? Use the icons below to share this post!
SaveSave
SaveSaveSaveSaveSaveSave