19 Thanksgiving Bible Verses for Spiritual Warfare
Let's use these Bible verses about thanksgiving for spiritual warfare. They all have a common theme (besides being thankful to God). Read on to discover what it is!
---
Have you ever been inundated with negative news all day? It seems we don't have to go far before it hits our ears: the news, someone's arguing on social media, or the kids are whining.
One morning I woke up to a great day. Slowly, as the day started to unfold, negative news began to abound. The news, of course, is full of negativity, heart-wrenching and appalling.
I started getting grouchy.
Then I heard another piece of news that was negative and thought, I'm sorry! I can't fix it! I can't fix everyone's problems all the time and someone is always unhappy about something!
Hearing so much negativity made me want to go to bed early! (Hey, the Bible says joy comes in the morning, and I couldn't wait to get to that joy.)
Needless to say, that was the wrong response, and I walked away asking myself, What is wrong with me? But I realized that I was letting the influx of negativity affect me in the wrong way.
Negativity will rob your joy and replace it with discouragement faster than you can take a deep breath. It's an attack of spiritual warfare against your soul.
Sometimes, we just need a balance. We need to hear positive, encouraging news. And we need to be thankful.
It lifts us up. This is another reason the Bible says to talk about His wonderful deeds.
Oh, give thanks to the LORD! Call upon His name; Make known His deeds among the peoples! Chronicles 16:8 NKJV
But there's another truth you need to know…
What These Thanksgiving Bible Verses Have in Common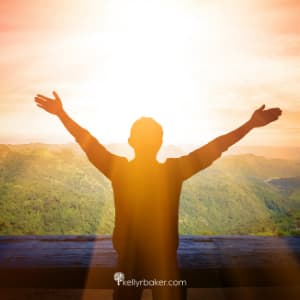 I'm seeing a recurring theme in these verses on giving thanks to God! They mention using your voice! They talk about being thankful so that others may hear.
This is important because it brings glory to God! What a way to wage spiritual warfare against that attack of negativity!
See how these verses talk of using your voice to thank God:
2 Samuel 22:50
Therefore I will give thanks to you, LORD, amongst the nations, and will sing praises to your name.
Ezra 3:11
They sang to one another in praising and giving thanks to the LORD, "For he is good, for his loving kindness endures forever towards Israel." All the people shouted with a great shout, when they praised the LORD, because the foundation of the LORD's house had been laid.
Psalm 9:1
I will give thanks to the LORD with my whole heart. I will tell of all your marvellous works.
Psalm 26:7
That I may make the voice of thanksgiving to be heard and tell of all your wondrous deeds.
Psalm 30:12
To the end that my heart may sing praise to you, and not be silent. LORD my God, I will give thanks to you forever!
Psalm 35:18
I will give you thanks in the great assembly. I will praise you among many people.
Psalm 57:9
I will give thanks to you, Lord, among the peoples. I will sing praises to you among the nations.
Psalm 75:1
We give thanks to you, God. We give thanks, for your Name is near. Men tell about your wondrous works.
Psalm 79:13
So we, your people and sheep of your pasture, will give you thanks forever. We will praise you forever, to all generations.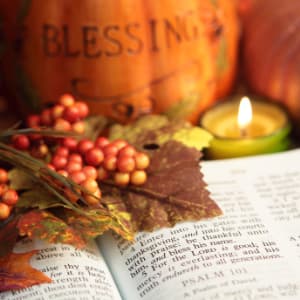 Psalm 109:30
I will give great thanks to the LORD with my mouth. Yes, I will praise him among the multitude.
Psalm 111:1
Praise the LORD! I will give thanks to the LORD with my whole heart, in the council of the upright, and in the congregation.
Luke 17:15-18
One of them, when he saw that he was healed, turned back, glorifying God with a loud voice. He fell on his face at Jesus' feet, giving him thanks; and he was a Samaritan. Jesus answered, "Weren't the ten cleansed? But where are the nine? Were there none found who returned to give glory to God, except this foreigner?"
Acts 27:35
When he had said this and had taken bread, he gave thanks to God in the presence of all; then he broke it and began to eat.
Hebrews 13:15
Through him, then, let's offer up a sacrifice of praise to God continually, that is, the fruit of lips which proclaim allegiance to his name.
Ephesians 5:19-20
Speaking to one another in psalms, hymns, and spiritual songs; singing and making melody in your heart to the Lord; 20 giving thanks always concerning all things in the name of our Lord Jesus Christ to God, even the Father;
Colossians 3:17
Whatever you do, in word or in deed, do all in the name of the Lord Jesus, giving thanks to God the Father through him.
1 Thessalonians 5:17-18
Pray without ceasing. 18 In everything give thanks, for this is the will of God in Christ Jesus towards you.
Let's use these Bible verses about #thanksgiving for spiritual warfare. They all have a common theme (besides being thankful to God). Read this to discover what it is! #ThrivingInChrist #LiveYielded
Click To Tweet
Using Thanksgiving to God for Spiritual Warfare
I want to hear good news! So will you do something with me today? Let's practice what we learned in these Bible verses about thanksgiving.
Will you leave a positive comment? I want to hear if your sister-in-law just received Jesus, if your doctor gave you a good report, or if your dog just came home! 😉
And could you take it a step further by threading it with thanksgiving to God?
Give thanks to the LORD and proclaim his greatness. Let the whole world know what he has done. Sing to him; yes, sing his praises. Tell everyone about his wonderful deeds. Psalm 105:1-2 NLT
I'll start by leaving a comment about some good news.
Your comments will benefit others who may be discouraged and need to hear some encouragement.
If you can't think of anything good, find the good in that situation! And through this practice, God will be glorified!
---
Want to help encourage others in their walk with God? Use the icons below to share this post!